Disaster Relief and Honoring Roy Gillespie at Teamsters Convention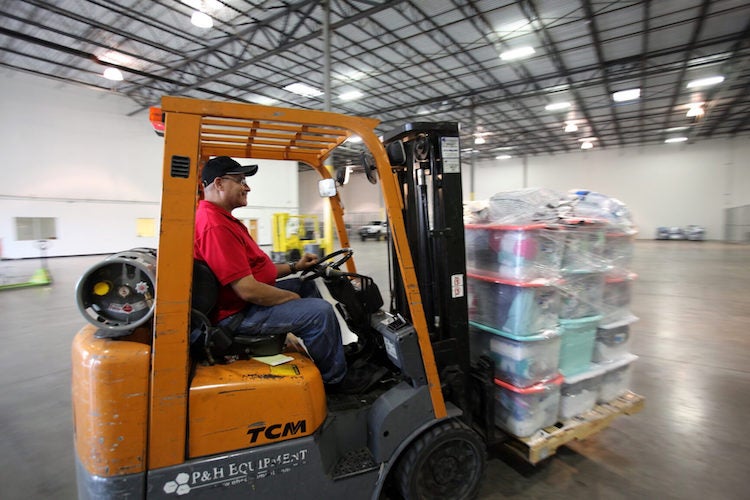 On Wednesday afternoon, the 30th Convention looked back on the recent natural disasters that have tragically gripped our country and how the Teamsters have been on the frontlines after each and every one.
Local 991 member Jerry Julian recounted how his union was there for him after his home in the Florida panhandle was destroyed by Hurricane Michael.
"The Teamsters have been great," Julian said. "They've been coming over here with supplies – food, water, cleaning supplies, gift cards to help us out financially, so we're really thankful for the union for all the help that they're bringing over here."
Teamsters also honored the memory of the man whose life's work was the embodiment of Teamster values: IBT Disaster Relief Coordinator Roy Gillespie.
"When everybody else was leaving the disaster zone, he was just getting there," said General President James P. Hoffa. "He coordinated efforts across the entire labor movement on behalf of the Red Cross and FEMA to make sure it benefited all people affected by the disaster."
Gillespie worked in the freight industry for decades and was a Teamster driver for USF Holland with Local 600 in Missouri. He got fully involved in the Teamsters Disaster Relief (TDR) efforts after Hurricane Katrina struck in 2005, when he acted as a liaison between the Red Cross and FEMA. Over the years, Gillespie turned TDR into a powerhouse among humanitarian crisis relief organizations, earning himself the nickname "Master of Disaster."
Tragically, Gillespie passed away in March. As a tribute to his lifetime of service, Gillespie was posthumously awarded the Teamsters President's Medal. His son Roy Gillespie Jr., accepted the honor on his behalf."I'm accepting this medal on behalf of my father, Roy Gillespie, who has taught me about the Teamsters and their values," Gillespie Jr. said. "He's also taught me the values of charity and giving."
« Previous
Next »