New England Waste Workers Unite to Win Strong Contract at Veolia Water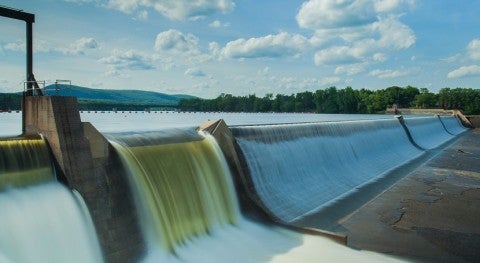 Waste workers for Veolia Water in Fall River, Mass., have voted overwhelmingly to ratify an excellent three-year agreement after a hard-fought campaign to win respect at the bargaining table. The new contract raises wages, secures health and welfare, provides a retention bonus and other improvements for the members of Local 251 in East Providence, R.I.
"We've always been willing to bargain and work with the company on certain aspects of the contract, but this time it was different, and we were united to win a fair contract," said Howard Paine, an 11-year maintenance worker at Veolia Water and steward for Local 251. "When they realized we were serious about striking, the company began to take us seriously. I am grateful to the guys for their solidarity. We all stuck together and it's the best contract we've ever had."
Paine noted that he and his co-workers refused to accept Veolia Water's concessions, which included switching from the Teamsters Health and Welfare plan to the company's inferior health care plan.
"We had been putting our health and safety on the line throughout the pandemic, and the Teamsters Health and Welfare plan was one of the reasons a lot of us stay in the job. It's the best there is, and we weren't about to give it up," Paine said.
The Local 251 members work in operation and maintenance at Veolia Water facilities in Fall River, Mass., and have been working throughout the pandemic to test water supplies and keep the public safe.
"Throughout the pandemic, these frontline workers have been keeping the public safe, and they deserved a fair contract," said Local 251 Business Agent Nick Williams. "We were proud to stand beside these members at the bargaining table. It was incredible to see their solidarity in action. This contract will protect and enhance workers' livelihoods."
In addition to securing their excellent health care plan with Local 251, the Veolia workers also secured increases to shift differentials, annual raises, a longevity bonus and more.
"This contract was a long time coming. After the pandemic interrupted negotiations, and these workers found themselves on the front lines, the need for a strong became all the clearer," said Matt Taibi, Secretary-Treasurer of Local 251. "This agreement reflects a lot of hard work over the past months as we worked to address the workers main issues. I applaud this strong group for their commitment to winning a better future at Veolia Water."
Veolia operates transit, water and waste services throughout the U.S. and Canada. The Teamsters Union represents more than 3,000 Veolia members at Veolia's North American subsidiaries.
"I am proud of these workers for staying united throughout negotiations," said Chuck Stiles, Director of the Teamsters Solid Waste and Recycling Division. "This contract victory shows that when our members unite and fight for a better future, they have the power to bring positive change to the workplace. By standing together as Teamsters, workers at Veolia Water fought and won big."
« Previous
Next »