Political Efforts Spell Policy Success for Teamsters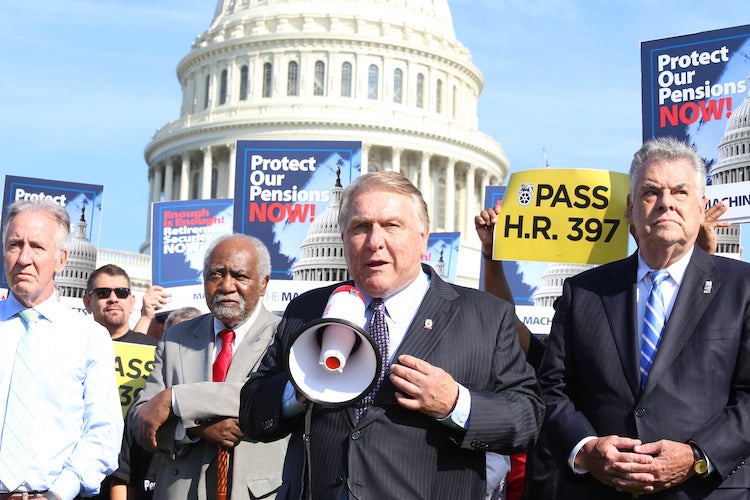 The Teamsters are capitalizing on their 2020 election efforts after spending the last two years getting pro-worker candidates elected and putting in place a program that stresses the top concerns of the union – secure pensions, strong unions and good jobs.
As outlined Tuesday afternoon during the 30th International Brotherhood of Teamsters Convention, the Department of Political and Legislative Action has built off election wins that put Joe Biden in the White House and Democratic majorities in both chambers of Congress to get long-sought multiemployer pension reform passed.
Additionally, the administration and leaders on Capitol Hill are also prioritizing an agenda that will empower unions and the rights of workers while also recognizing the need to invest in infrastructure and pro-family policies to ensure hardworking Americans can have access to good-paying jobs that allow them a high quality of life.
That success wouldn't have been possible if the Teamsters hadn't begun planning and getting boots on the ground during the summer of 2019. Candidates were peppered with questions and were also asked by the union to share their policy positions.
"Every one of these candidates has filled out a questionnaire and we told them you have to appear at union activities and at our union halls and walk picket lines," Teamsters General President Jim Hoffa said in the lead up to the union's December 2019 presidential candidate forum. "You have to get more involved; you have to show that you really care and that's what we've done here. And we are seeing a lot more activity with regard to labor unions."
The fight continued into the general election, despite on onset of the coronavirus pandemic. While in-person efforts were curtailed, political field organizers – your fellow Teamsters and Teamster retirees – worked the phones, texted and even in some cases wrote notes to fellow members to get the vote out. As we know, that effort succeeded, and hardworking Americans are benefitting from it.
On the eve of President Biden's inauguration, the union debuted its Build Back Stronger program, a three-pronged campaign that emphasized the Teamsters top issues – secure pensions, strong unions and good jobs. And less than six months later, there has already been a treasure trove of successes.
The primary victory by far was the inclusion of multiemployer pension reform in the American Rescue Plan signed into law in March. As a result, the retirements of more than 1 million U.S. workers and retirees have been saved, as well as Teamsters who were part of more than 50 different pension plans that will be helped under the legislation.
That accomplishment wouldn't have been possible without the hard work of people like Ken Stribling, a Local 200 retiree and Vice President of the National United Committee to Protect Pensions, who teamed with union leaders to put boots on the ground and get change to happen.
"I was so proud to be a part of this grassroots historical movement," he said. "I'll never forget it."
The efforts didn't end there, however. Continuing with Build Back Stronger, the Teamsters launched into getting lawmakers to approve policies that will strengthen unions and create good jobs through such measures as the Protecting the Right to Organize (PRO) Act, as well as the American Jobs Plan that stresses infrastructure investment.
"Everything is stacked against the workers," said former XPO worker and current Teamster organizer Jose Ramirez. "We need to level the playing field. The workers have every right to organize. Please give them right tools to have a fair shot."
Getting pro-worker policies in place requires electing the right people. In some cases, that means choosing Teamsters themselves to serve in public office. Other times, it means giving financial support to candidates who back the union's agenda. The Teamsters are doing just that through the Democrat, Republican, Independent Voter Education (DRIVE), but there is still more that local unions across the country can do so hardworking Americans prevail, said Tom Ritter, President of Local 886."The secret to Local 886's success is just being out in front of the membership – it's not that hard," he said. "Contact you DRIVE Department, get a rep to come to your local, get some hamburgers and T-shirts and get after it."
« Previous
Next »