Teamsters Go Big in Pushing the PRO Act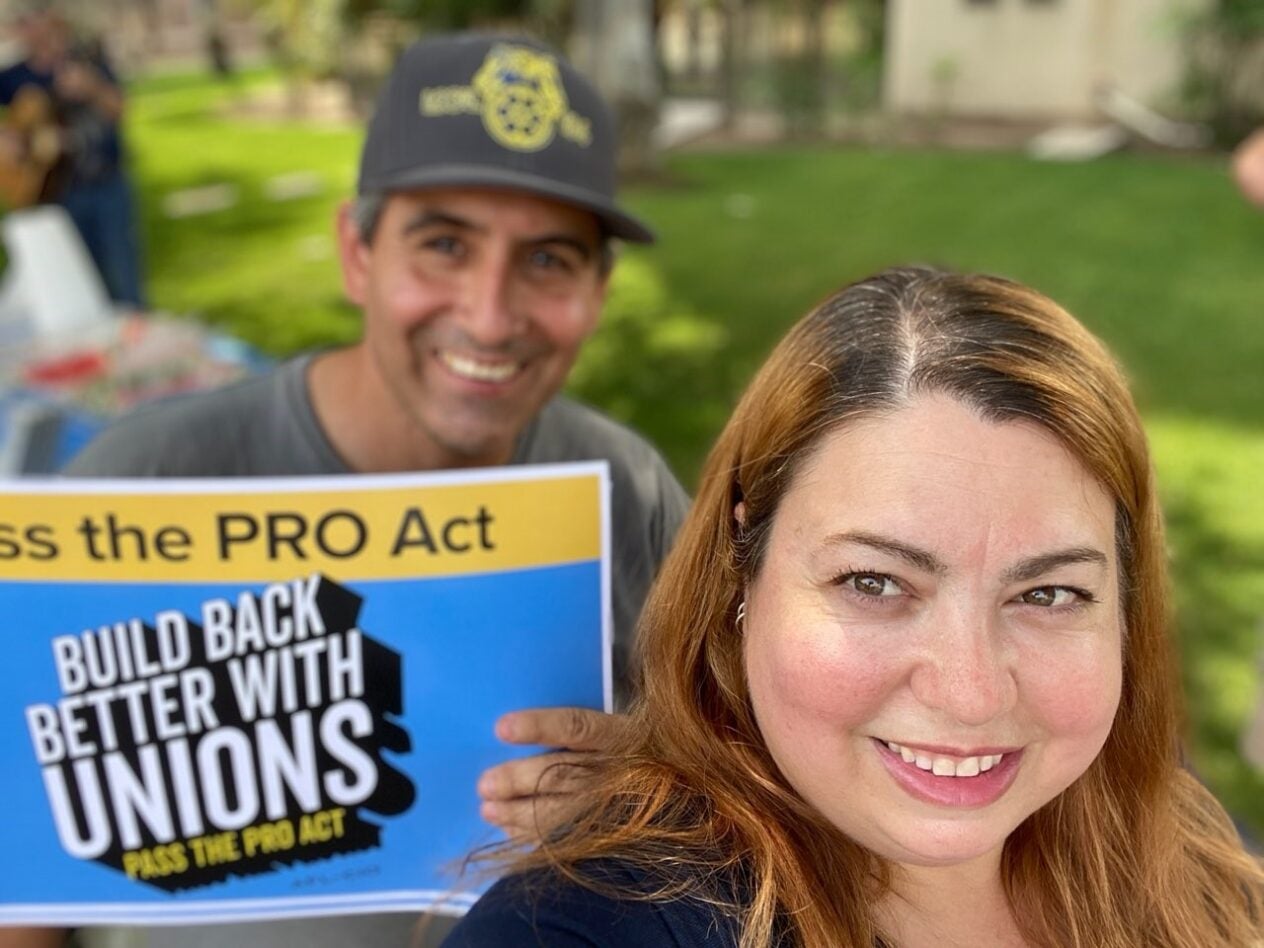 Teamsters from coast-to-coast turned out in force last week with their fellow union brothers and sisters to urge the Senate to pass the Protect the Right to Organize (PRO) Act, which would empower hardworking Americans in their efforts to join together and fight for better wages and benefits as well as safer jobs.
Whether it was through rallies or other events, the Teamsters were on the ground getting the word out that more has to be done to help workers. The PRO Act increases penalties on employers who break the law and gives workers a private right of action if they've been terminated for union activity. It prohibits the use of coercive activities like captive audience meetings and establishes a process for mediation and arbitration to stop stalling tactics and help parties achieve a first contract.
Local 773 in Allentown, Pa. hosted a Pennsylvania AFL-CIO event Wednesday at its union hall, where 40 Teamsters and other union members, as well as a handful of local and state elected officials, were briefed on the importance to the legislation and what unions can do to educate their membership.
Brian Taylor, Local 773 business agent/organizer, said the meeting played an important role for outreach efforts, saying it will serve as a springboard mobilize rank-and-file members. "People didn't understand previous to this," he said. "But afterwards, people understand the value of the PRO Act and why it needs to be passed."
Teamsters got involved in events promoting the PRO Act all around the country, including members from:
Joint Council 28 in Seattle, Wash.;
Local 2 in Helena, Mont.;
Local 71 in Asheville, N.C.;
Local 79 in Tampa, Fla.;
Local 104 in Tucson, Ariz.;
Locals 107, 169, 502 and 929 in Lindwood, Pa.;
Local 171 in Roanoke, Va.;
Local 200 in Milwaukee, Wisc.;
Local 322 in Richmond and Vienna, Va.;
Local 519 in Nashville, Tenn.;
Local 745 in Dallas, Tex.; and
Local 822 in Norfolk, Va.
Teamsters were also not shy when it came to challenging lawmakers who aren't being explicit in their support of the PRO Act. Dawn Schumann, political coordinator of Local 104, called on home state Sen. Kyrsten Sinema to take a stand with workers after the union came out strong in support of both of them during their most recent elections.
"Sen. Sinema, if you are listening, please call me," she said in a video posted to Twitter. "I would like to have a conversation with you and to ask a few questions about what the hang up is."
The week of action coincided with a Senate Health, Education and Labor Committee hearing held Thursday where Democrats on the committee spoke in favor of passing the PRO Act.
"Our labor laws are overdue for an update, and the COVID-19 pandemic has only made this more clear and more urgent," Committee Chairwoman Patty Murray (D-Wash.) said. "This crisis has changed a lot over the last year-and-a-half, but it has also shown us how much needs to be changed. This past year we witnessed the most uneven economic crisis in the nation's history unfold."
« Previous
Next »