Workers in the Global Supply Chain Winning a More Secure Future as Teamsters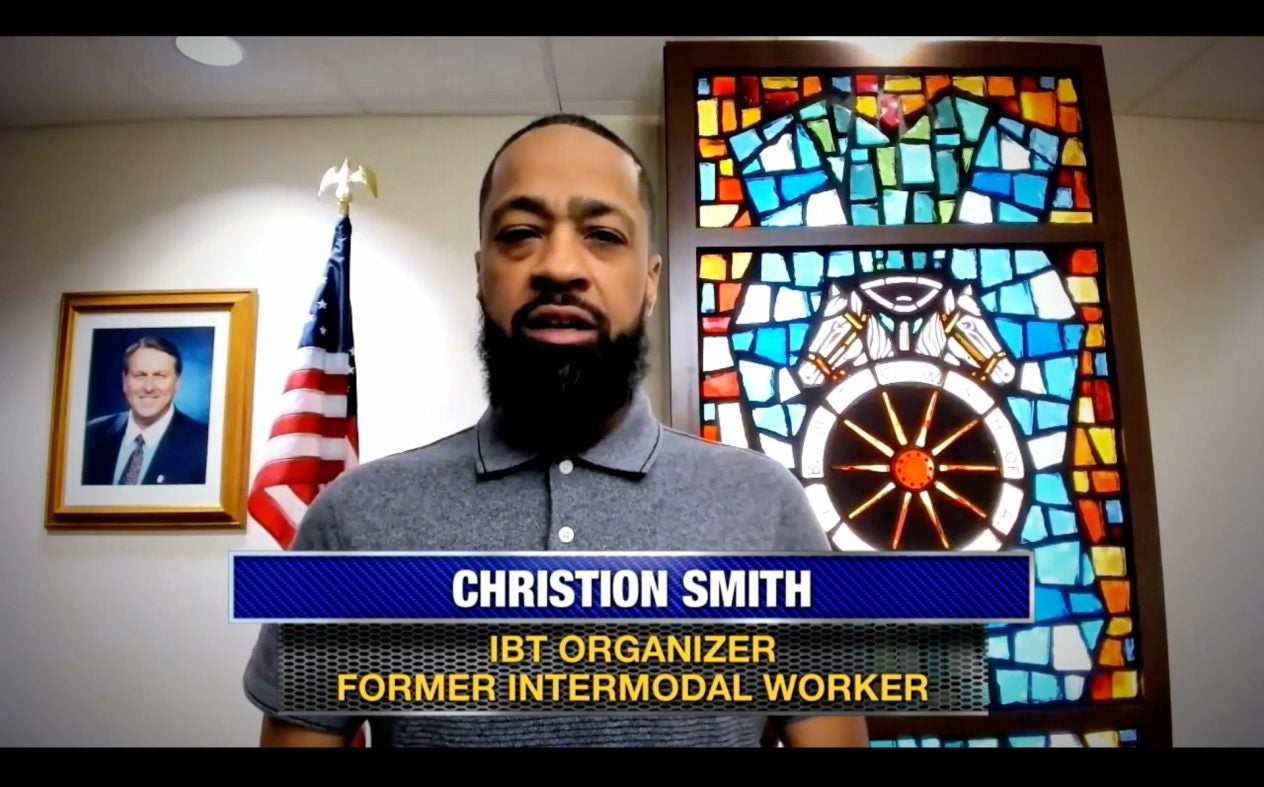 From the global supply chain's first mile to the last, the Teamsters Union is leveraging its expertise and resources across the transportation industry to win a more secure future for workers.
Workers and union leaders from four campaigns told their stories during the Global Supply Chain segment during the Teamsters 30th International Convention. The campaigns are port, intermodal and foodservice workers, and workers at XPO Logistics.
By misclassifying workers as independent contractors, companies who service some of the largest corporations on the planet strip tens of millions of workers of their rights and benefits to put more money into their pockets.
This is an illegal scam and the Teamsters are fighting to end it once and for all.
Richard Tatge, a driver at Universal Logistics who recently voted to join the Teamsters but was later illegally terminated along with 27 other drivers, spoke while on the picket line protesting the company's actions.
"We're here to let the company know it is our right to vote in the Teamsters," he said. "We want what's fair, we want what's right."
Strategic Success
Justin Vaughn, a Business Agent with Local 710 in Chicago and a former intermodal worker, and Christion Smith, a former intermodal worker who is now a Teamster organizer, talked about the organizing success in intermodal over the past five years.
"Intermodal is an incredibly strategic industry for the Teamsters to target," Vaughn said. "A strike in intermodal would have an enormous impact on the U.S. economy. You could potentially shut down the country."
"Over the past five years, the Teamsters have organized more than 1,500 workers in the intermodal industry at Parsec and ITS," Smith said. "We will continue to organize in this industry and build back Teamster representation."
Angel Maldonado, a driver at Sysco in Miami, urged foodservice workers across the country to form their union with the Teamsters, like he and hundreds of others have done in his area.
"Get together, form a union," he said. "The more people you have that stick together, the stronger you are to get treated well and to receive the wages and benefits you deserve."
The Teamsters are the largest union representing foodservice workers in the country, with more than 11,000 members at Sysco and more than 4,000 at US Foods.
Since 2016, more than 1,300 workers at Sysco and more than 500 at US Foods have organized, despite the companies' anti-union efforts.
XPO Fight Continues
James Jones, President of Local 667 in Memphis, talked about the union's ongoing campaign to organize freight, warehouse and port workers at XPO Logistics.
"XPO provides these services to companies such as IKEA, Home Depot, Target, Verizon, Starbucks, Nike and many others," Jones said. "When you talk about the global supply chain, XPO is in the thick of it. XPO is also the poster child for astonishing corporate greed and for blatant mistreatment of its workers."
Mike Zangrillo, an XPO freight driver in Miami, said the company has put up numerous roadblocks, preventing he and his co-workers from winning a first contract. But, Zangrillo said, workers in Miami and elsewhere will continue to fight.
"They never expected that we would stick together this long. We continue to push back with our brothers and sisters around the globe, despite the attempts to buy us off and despite the delay tactics," Zangrillo said. "We will have a contract. We will organize more workers and we will work with other global unions to hold XPO accountable."
« Previous
Next »