Republic Services Workers in New Orleans Strike Over Unfair Labor Practices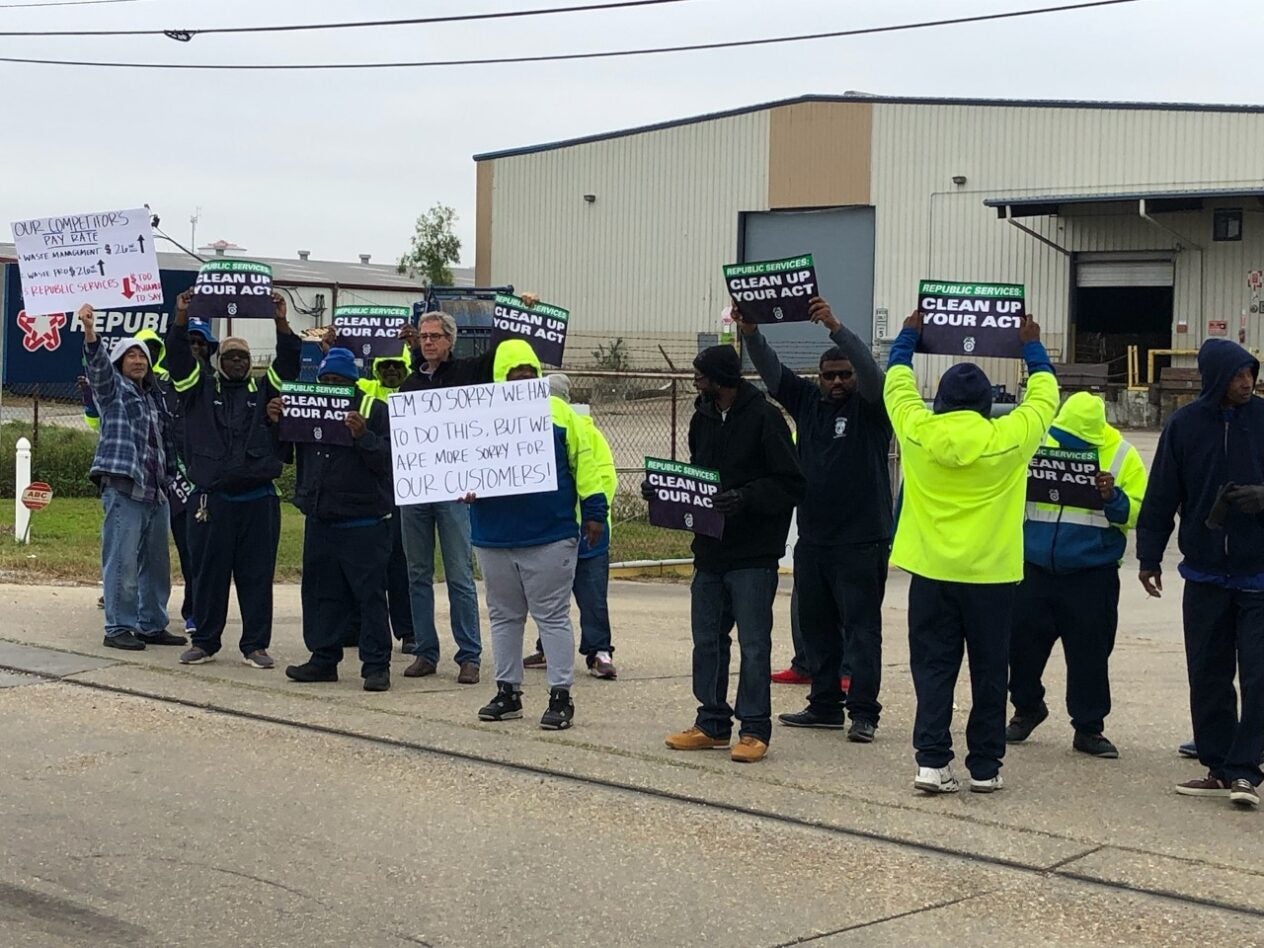 Frontline Sanitation Workers Strike for Good Pay, Better Working Conditions and a Fair Contract
Today, Republic Services sanitation workers, who are members of Local 270 in New Orleans, are on strike in response to the company's efforts to cut wages for some of its longest-tenured workers and widespread equipment failures. The unfair labor practice (ULP) strike represents Republic workers' latest effort to hold the company accountable to better working conditions and fair pay at its New Orleans facility.
Striking workers held signs that read, "Republic Services: Clean Up Your Act."
"It's hell on wheels. We're underpaid. Trucks are constantly breaking. I'm a one-man gang in the morning, I handle all these trucks, by myself," said Robert Williams, a repairman at Republic Services and member of Local 270.
While Republic Services workers have been working tirelessly to pick up the trash from Hurricane Ida and keep the streets clean amid the pandemic, the company has been pushing to move its sanitation workers nationwide from an incentive pay model to hourly rates, which would cut some of Republic's longest-tenured workers' pay by nearly $7/per hour.
"Republic Services workers have been doing their best to avoid a strike. We have been showing up at the bargaining table ready to negotiate with management and raising concerns critical to helping us clean up this community," said Steve Sorrell, President of Teamsters Local 270. "Unfortunately, Republic is continuing to push for nationwide wage cuts for long-time, dedicated employees while putting its workers and the public in danger by maintaining shoddy, outdated equipment. We will not accept this. It's time that Republic Services put its workers and the New Orleans community first."
In addition to facing possible wage cuts, the Republic Services workers are also experiencing significant equipment failures. There are currently 18 Republic Services garbage trucks out of the New Orleans facility's total 50 trucks that have been deemed unsafe to operate and out of operation. As a result, workers continue to be sent home without pay and are unable to pick up trash in several New Orleans neighborhoods. Local 270 has filed a ULP against the company for its mismanagement, the third ULP workers have filed against Republic in October.
Republic workers held an informational picket on October 25, hoping to reach a fair agreement with the company, avoiding a strike, especially with their communities still in turmoil following Hurricane Ida. However, the workers could not stand idly by as their colleagues, many of whom have been with the company for 20-plus years, face substantial pay cuts from a huge corporation, and as the company makes it increasingly more difficult for them to do their job safely.
"These guys dedicate their lives to this company. Most of these guys worked through two years of the pandemic, all of them returned after Hurricane Ida, and we still have to argue for a decent wage which is totally unfair," Sorrell said.
Teamsters Local 270's contract extension with Republic Services expired on June 30, 2021 and members voted to authorize a strike on October 8, 2021.
« Previous
Next »