Teamsters Local 174 Strike at Gary Merlino Construction Enters Fifth Day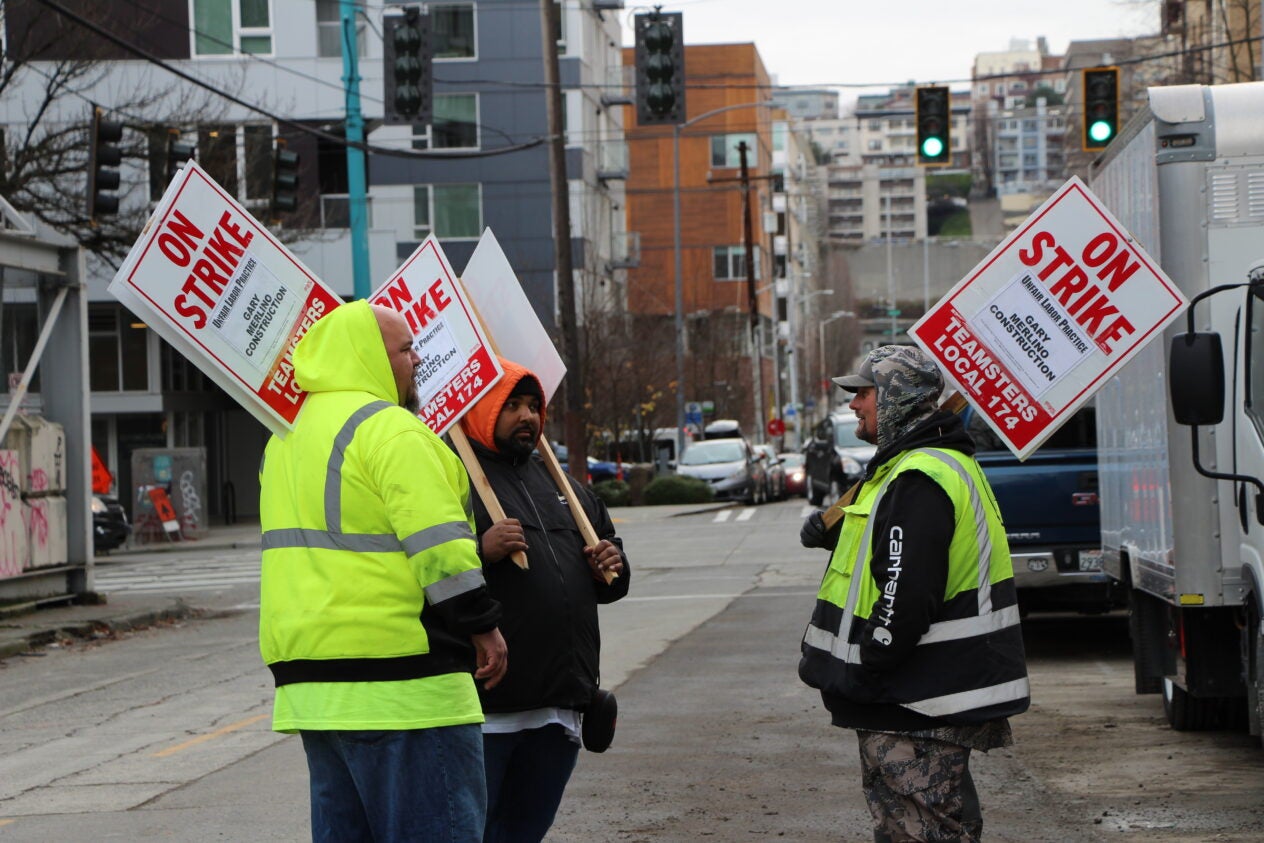 Striking workers set up pickets in downtown Seattle to impact Merlino construction jobs
Press Contact: Jamie Fleming Phone: (206) 441-6060 Email: jfleming@teamsters174.org
The Unfair Labor Practice strike by 34 construction drivers at Gary Merlino Construction entered its fifth day Wednesday, with pickets ongoing at GMC and Stoneway facilities in Renton and Seattle. In addition, striking workers took their show on the road for the first time, setting up pickets outside several major commercial construction jobs in the heart of Seattle. When met with the Teamster members' primary picket lines, most unionized Building Trades workers chose to honor the picket lines, standing in solidarity with their fellow Union members by refusing to cross picket lines to work on the projects. Impacts were felt at three different sites. Meanwhile, GMC and Stoneway trucks continued to sit dormant, as GMC/Stoneway management digs their heels in further and refuses to bargain with the Teamsters for a new contract.
At the heart of the Unfair Labor Practice strike is GMC/Stoneway management's refusal to bargain in good faith to reach a contract with the Teamsters, despite the fact that all other construction companies covered by the regional AGC Agreement have already signed deals containing matching contract language and economic packages. Workers remain ready to continue picketing over the Thanksgiving holiday weekend and beyond.
"I cannot believe this is how Gary Merlino has chosen to treat his employees, especially during the holiday season and after everything his employees have done for the Merlino family throughout the Seattle construction boom," said Teamsters Local 174 Secretary-Treasurer Rick Hicks. "These workers just want to be treated the same as all their Brothers and Sisters in the construction industry, but Merlino will not even sit down at the table with us to hammer out a deal. If he believes he can ignore us until we go away, today's picketing downtown should certainly have sent a clear message otherwise."
"Settling this strike won't be difficult for him," Hicks continued. "He just needs to swallow his pride and treat his workers fairly. Otherwise, we will have no choice but to continue to disrupt construction jobs until we get his attention and bring him back to the bargaining table."
Founded in 1909, Teamsters Local 174 represents 8,600 working men and women in Seattle and the surrounding areas. "Like" us on Facebook at www.facebook.com/TeamstersLocal174.
« Previous
Next »