Republic Services Workers in Orange County Strike Over Unfair Labor Practices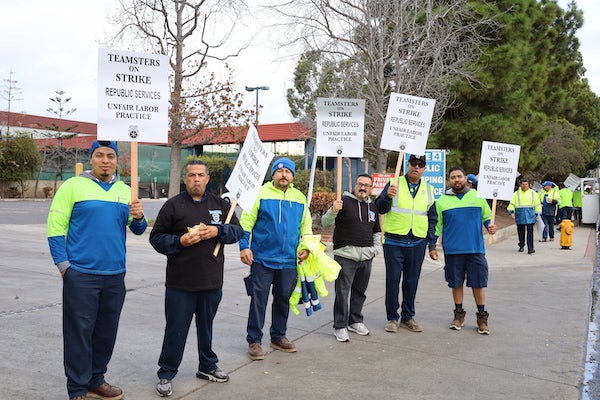 Frontline Sanitation Workers on ULP Strike for Fair Tre­­atment After Republic Engages in Egregious Unfair Labor Practices
(ORANGE COUNTY, Calif.) – This morning, at 3:00 a.m. PST, more than 400 sanitation workers employed by Republic Services facilities in Anaheim and Huntington Beach — and members of Teamsters Local 396 — went on strike in response to the company's unfair labor practices committed during bargaining for a fair contract, including making unilateral changes without bargaining and threatening reprisals against employees who participate in union activity. Teamsters Local 396's contracts with Republic Services expired on September 30, 2021, and members voted to authorize a strike on November 23, 2021.
These frontline sanitation workers — overwhelmingly Black and Latino employees who worked tirelessly during the COVID-19 pandemic to keep their communities safe and clean — have made it clear from the start that their strong preference was to reach a fair agreement with Republic Services instead of going on strike. However, instead of providing these workers with fair pay and a fair contract that addresses their concerns, including excessive working hours and constant harassment on the job, Republic Services has responded to the employees' union activities with unfair labor practices, leaving them with no choice but to strike.
Teamsters Local 396 members proudly serve Orange County cities such as Santa Ana, Garden Grove, Anaheim, Huntington Beach, Seal Beach and major tourist attractions, including Disneyland. The strike will disrupt waste hauling during the holiday season, impacting both residential communities and businesses.
« Previous
Next »