New House Bill Will Further Fair Trade to Help U.S. Workers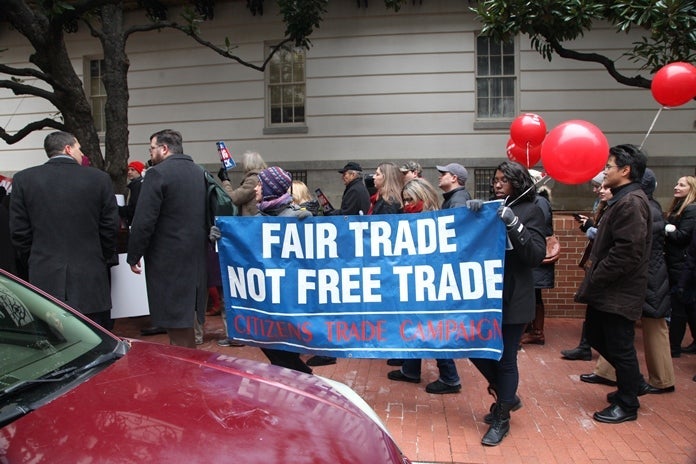 If the U.S. wants to increase the number of good jobs in this country, it must win the global battle to grow its economy against nations such as China. The just-released America COMPETES Act would allow it to do so.
Advancing this legislation will make our supply chains stronger and reinvigorate the innovation engine of our economy to outpace China and the rest of the world for decades to come. This new bill is the House version of the U.S. Innovation and Competition Act, which the Senate passed in June. But it includes important additional provisions that will make sure hardworking Americans – not just big business – benefit from this measure as well.
President Joe Biden said this week that passage of this legislation will lead to more good-paying jobs for many Americans no matter what their educational background. It will bring manufacturing jobs back to the U.S., with a focus on easing the sort of supply chain bottlenecks like semiconductors that have led to higher prices for the middle class.
"We have an opportunity to show China and the rest of the world that the 21st century will be the American century – forged by the ingenuity and hard work of our innovators, workers and businesses," he stated.
The new House bill goes beyond what the Senate did last year by including pro-worker trade reforms like the improvements to Trade Adjustment Assistance (TAA). With the changes to TAA programs, the America COMPETES Act will expand and modernize the support available to workers and firms under strain due to international competition. The legislation is a bold measure that will stand up to China's harmful actions and support American workers.
"This legislation is more than just talk – it's a bill with teeth that cracks down on China's abuses of U.S. trade laws," House Ways and Means Committee Chairman Richard Neal (D-Mass.) said. "Strengthening our supply chains and combatting China's trade practices that distort the global market are bipartisan priorities, and I know members on both sides of the aisle want to ensure American workers, manufacturers, and farmers have all the tools they need to succeed in the world economy."
The measure will also close the 'de minimis' loophole used by China and companies like Amazon to ship hundreds of millions of packages valued under $800 into the U.S. without inspection, information disclosure, or duty payment. It will prohibit goods from countries that are recognized as high-risk counterfeiters as well as non-market economies.
It is essential that these components of the House bill get included in a final version of the legislation that heads to President Biden's desk. The Teamsters urge House and Senate lawmakers to agree to those changes so working Americans can benefit from much-needed 21st century innovations.
« Previous
Next »