Republic Services Continues to Put San Diego Workers and Communities at Risk, Teamsters Say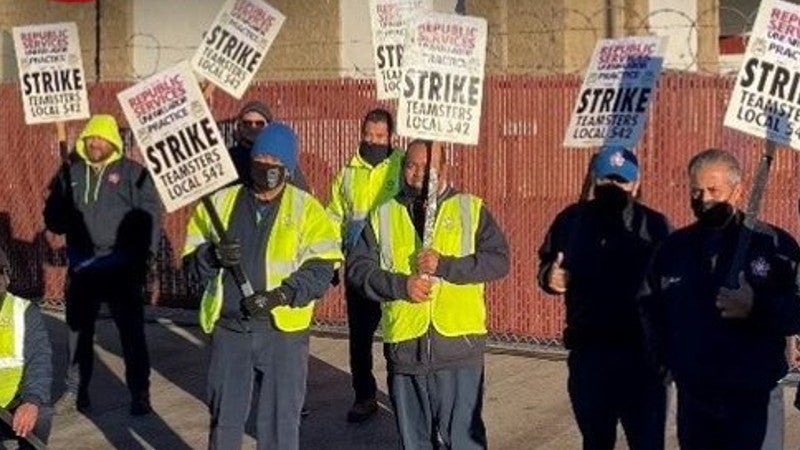 Strike Continues as Company Refuses to Bargain Fairly with Essential Workers Who Have Worked Throughout the COVID-19 Pandemic
(SAN DIEGO) – Sanitation workers at four Republic Services [NYSE: RSG] facilities remain on strike in San Diego today, after voting to reject a contract proposed by the company this week. Over 250 workers at the $10 billion corporation went on strike on December 17, 2021.
"Republic has known for years that the contract expired on November 30, 2021, and had six weeks since the expiration date to address our members' concerns," said Jaime Vasquez, Secretary-Treasurer of Teamsters Local 542 in San Diego.
Vasquez continued, "Our members have been working non-stop throughout the pandemic to keep San Diego communities clean and safe, and they have been pushed to the brink by excessive working hours and harassment by company management. We tried to bring these issues to Republic executives at the bargaining table, but they had no interest in bargaining in good faith. Our members felt they had no choice but to go on strike to try to get the company to listen to their concerns."
Republic Services is the second-largest trash collectionand landfill corporation in America. In 2020, Republic Services earned over $10 billion, with $1.2 billion in net profit, while its CEO's total compensation totaled over $12 million. Republic has spent more than $736 million buying back its stock in recent years. Republic's largest shareholder is Microsoft founder Bill Gates, and Gates' investment advisor sits on Republic's board of directors.
"Republic Services has brought in strike breakers at higher pay than it's offering our members," said Vasquez. "It's no surprise that our members voted down Republic's current contract proposal. In addition, it was a slap in the face to learn that Republic gave its board members hundreds of thousands of dollars in cash and stock this week."
On January 5, Republic board members received their annual restricted stock award for 2022. Each received stock worth $230,000, which is in addition to the approximately $100,000 in cash they receive for attending six board meetings a year.
"It's time the millionaire executives in Phoenix recognize the sacrifices of its frontline workers instead of lining their own pockets with the profits that these workers make for the company," said Chuck Stiles, Director of the Teamsters Solid Waste & Recycling Division. "Sanitation work is the sixth deadliest job in America. These workers put their lives on the line every day to protect the public health. Republic pays shareholders like Bill Gates hundreds of millions of dollars in dividends every year — it can afford to treat its workers with dignity and respect, and ensure they are safe on the job."
"We know customers are frustrated, and we apologize for the inconvenience. This strike affects our members' families and neighborhoods, too," said Vasquez. "Our members are public service workers who want desperately to be able to get back into their trucks and clean up their communities. All we ask is that Republic Services recognizes the value and needs of its essential workers who have kept this community safe, clean and protected for nearly two years of this pandemic. It's unconscionable that the decisions of millionaire executives sitting in swanky offices or at home teleworking in Phoenix are allowed to deprive our members of their livelihoods and keep putting the public health at risk throughout San Diego."
"We appreciate all the support that so many of you have voiced so far," Vasquez continued. "We want to continue bargaining and to come to a fair agreement as soon as possible."
The International Brotherhood of Teamsters represents more than 7,000 Republic workers nationwide. Teamster members who work for Republic Services are in negotiations for contracts that expired in 2021 in seven locations: San Diego, San Francisco, San Jose, Stockton, and Richmond, Calif.; Seattle; and New Orleans.
« Previous
Next »