Republic Services Teamsters Vote to Approve Contract, End Strike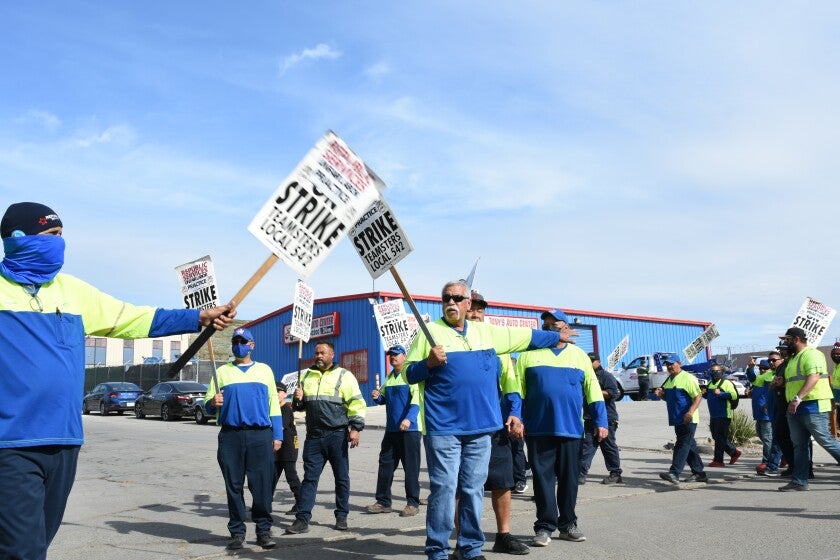 Workers Will Return to Work Tuesday, Begin Massive Clean-Up Operation
(SAN DIEGO) – Republic Services [NYSE: RSG] workers who have been on strike since December in protest of the company's violations of federal labor law reluctantly voted to accept the company's latest contract offer. The new contract for the members of Teamsters Local 542 provides for wage increases and some improvements to their health insurance but falls significantly short of what Republic Services workers in neighboring Orange County received following their seven-day strike last month.
"This was one of the most difficult decisions I've ever had to make," said Rafael Mejia, a worker at Republic and member of Teamsters Local 542. "We are fighting for dignity and respect on the job, but we also know that the strike has been affecting our communities and our neighbors and our own families. This contract isn't everything we believe we deserve, but it's enough to go back to work and go back to taking care of our communities."
The ratification vote took place on day 32 of the unfair labor practice strike. During the strike, workers received the support of the community and political leaders who called on the company to negotiate a fair contract. Elected officials have gone on record that they are considering whether to continue their contract with Republic Services in San Diego County for failing to protect workers.
"Republic's willingness to put communities in San Diego at risk for a whole month all to save some money over what they pay in Orange County is infuriating," said Hilario Fernandez, another worker at Republic and member of Teamsters Local 542. "We can't ever let this happen to our communities again. We plan to work with every relevant municipality to ensure they have the strongest provisions in their contracts with private waste haulers to ensure this can never happen again."
Last week, workers extended their picket lines to Seattle, where almost all waste hauling is unionized.
"Republic and other sanitation workers in the Seattle area, where the cost of living is comparable or even a little lower than San Diego, make significantly more in wages, have better health care and a higher retirement contribution than we do. They got there by unionizing the entire industry and sticking together against these huge, greedy corporations like Republic. We have a blueprint for how to make change here in San Diego, but after a month of striking workers here also recognized that the community is suffering," added Fernandez.
Cities in the Seattle area also have strong protections in their contracts where companies are fined when they don't pick up trash and recycling because of a labor dispute.
"On Martin Luther King, Jr. Day, it's not lost on our members here that most of them are Latino and many are immigrants, and this contributes to how Republic feels they can treat them," said Jaime Vasquez, Secretary-Treasurer of Teamsters Local 542 in San Diego. "These workers put their lives on the line every day doing the 5th-most deadly job in America."
"Republic thinks they can get away with paying our members in San Diego less because the vast majority ofthem are immigrants from Mexico. Fifty-four years after Dr. King died in Memphis supporting striking Black sanitation workers against a racist mayor, we know some of that fight continues to this day. We see ourselves carrying on that fight, and it doesn't stop today just because our members are going back to work," said Chuck Stiles, Director of the Teamsters Solid Waste & Recycling Division.
Earlier today, the Teamsters Union released the disturbing results of a survey conducted amongst Republic Services employees nationally. The survey found that a majority ofworkers of color elevated concerns around discrimination and mistreatment. The survey results can be found here.
"Ultimately, we learned a lot through this experience. We didn't achieve everything we set out to achieve, but we learned so much that nobody can take away from us. The community outpouring of support was absolutely amazing. And we got support from all over America, especially in Seattle where our brothers and sisters made a huge sacrifice to support our fight," said Vasquez.
Republic Services is the second-largest trash collection and landfill corporation in America. In 2020, Republic Services earned over $10 billion, with $1.2 billion in net profit, while its CEO's total compensation totaled over $12 million. Republic's largest shareholder is Microsoft founder Bill Gates, and Gates' investment advisor sits on Republic's board of directors. Last week, Republic gave its board members their annual compensation of hundreds of thousands of dollars in cash and stock.
The International Brotherhood of Teamsters represents more than 7,000 Republic workers nationwide. Teamster members who work for Republic Services are in negotiations for contracts that expired in 2021 in seven locations: San Diego, San Francisco, San Jose, Stockton, and Richmond, Calif.; Seattle; and New Orleans.
« Previous
Next »