Local 439 Members Ratify Historic Five-Year Contract at Safeway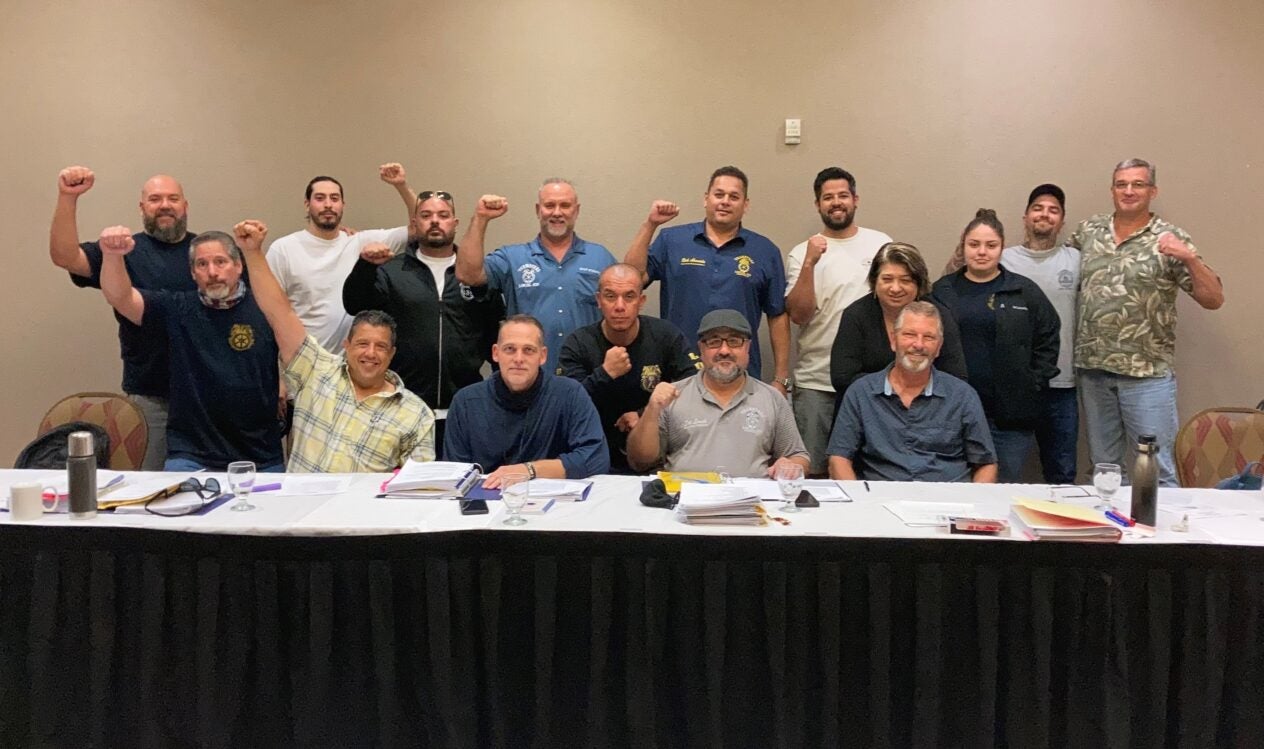 Northern California Teamsters Secure Agreement for 1,800 Warehouse Workers
(TRACY, Calif.) – Safeway Teamsters in Tracy, Calif., recently gained big at the bargaining table, securing a lucrative new contract for more than 1,800 members at Local 439. The historic five-year agreement addresses nearly every issue identified prior to negotiations and includes substantial wage increases, pension increases, retirement insurance, vacation pay, additional holidays and countless other improvements.
According to Jose Becerra, chief steward of the produce department, the new contract was made possible due to a collective effort mobilizing members.
"The main factor that helped us was our ability to work as a team. We worked closely with Secretary-Treasurer Sal Lomeli and lead negotiators Ed Speckman and Phil Creamer to make sure that all the stewards had a say throughout negotiations. We were encouraged to say what was on our mind and let management know how we felt. Our membership did a great job of educating each other and were an active part of the bargaining process," he said. "Before we started negotiations, we had been dealing with Covid for a year and a half. The pandemic helped bring more issues to light, specifically around safety, that we were also able to address in this contract."
The previous contract with Safeway was set to expire the day before the agreement was reached, noted Becerra. "Thankfully, the Teamsters and Safeway management remained at the bargaining table late into the night until an agreement was finally reached that addressed the members' issues and concerns."
The offer was voted in favor by an overwhelming margin and punctuated by cheers and applause, said Matt Schwertfeger, a steward who works in the frozen food warehouse.
"We owe a lot to Sal Lomeli and his team for standing with us throughout negotiations. Sal had come out of Safeway and knew the issues we were facing firsthand. He encouraged me to become a steward and take part in the collective bargaining process. It was my first time serving the union in this capacity," he said.
For Schwertfeger, the chance to serve his union after 30 years on the job was too good of an opportunity to pass up. He also noted the importance the bargaining committee placed on educating the 1,800-worker unit throughout the bargaining process.
"We took the time to actually educate and explain everything in the contract. It helped to have the experience to let folks know how significant the new agreement would be for members. I was going to retire in April, but I decided to stay on until Oct. 2022 to be a part of negotiations. I've been in warehousing long enough and thought serving on the committee would be fun and rewarding. Since we negotiated this most amazing contract, I am prouder than ever to be a Teamster and couldn't be happier to receive such wonderful retirement security," he said.
"We engaged in a pretty intense contract negotiations and never wavered in our demands. I came out of Safeway, so I knew the issues firsthand and knew these workers from my time at the company. We truly worked together as a team and are all extremely proud of what we have accomplished. This victory was made possible by strong involvement from the members," said Sal Lomeli, Secretary-Treasurer of Local 439. "We completely revamped the contract. There are too many gains to list, but I will say that I believe it is the best Teamster contracts ever negotiated at Safeway."
Of all the great accomplishments achieved in the new contract, Lomeli said that he is most proud of the retirement insurance, which is already helping a lot of Local 439 members retire with security. He also noted that the financial package was substantial and will make a major difference for Safeway workers and their families.
"The response from workers has been overwhelming. People were in tears following the ratification vote, knowing all the protections and benefits we had achieved," Lomeli added. "This is what being a Teamster is all about, lifting up workers and providing them with a better life."
Teamsters Local 439 has been representing workers and their families in San Joaquin, Amador, Calaveras and Tuolumne Counties for over 60 years. For more information, go to http://www.teamsters439.com/.
« Previous
Next »