Teamster Joins in Panel Unveiling DOL, DOT Collaboration to Increase Union Jobs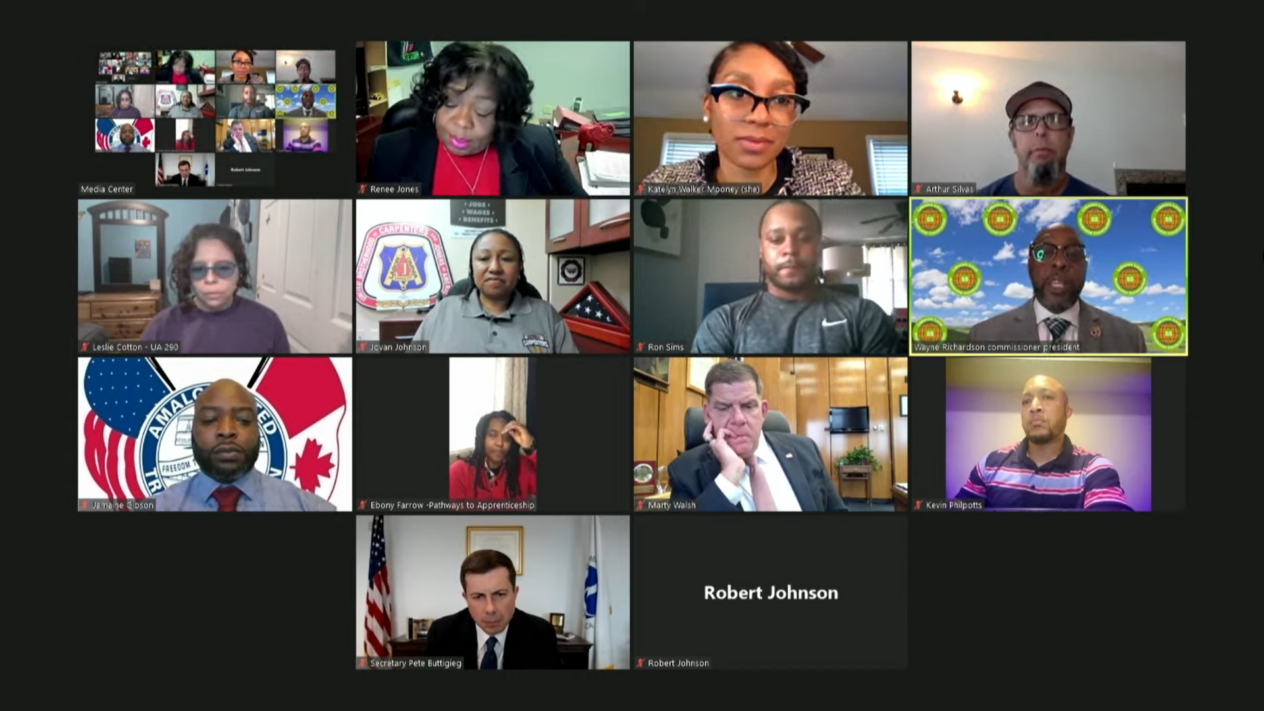 A California UPS feeder driver joined with a panel of union workers Monday to tell top Biden administration officials how the federal government can make changes to improve the lives of workers so they can have good-paying union jobs that allow them to support their families.
Local 986 member and second-generation Teamster Art Silvas explained to U.S Labor Secretary Marty Walsh, U.S. Transportation Secretary Pete Buttigieg and others that a union job has allowed him to provide for his family so he could send his daughter to college and cover all the family's medical bills. But in order for more workers to have that quality of life, elected officials need to do more.
"In terms of what the government can do, take steps to strengthen federal labor law to make it safe for non-union workers to form a union. It should be the workers' choice if they want a union, without fear or influence from their employers," he said. "The anti-union tactics that we have seen out here are completely outrageous."
Walsh and Buttigieg told those participating in the virtual event that they realized there is more government needs to do. That's why the Departments of Labor (DOL) and Transportation (DOT) announced the signing of a memorandum of understanding (MOU) on Monday that would have the agencies work together to ensure they team up to produce new jobs that can support a middle-class lifestyle.
"What we are talking about today is a historic collaboration between our two departments," Walsh said. "We want to make a difference in people's lives."
Buttigieg said the $1.2 billion infrastructure law approved last year was a once-in-a-generation opportunity not only to improve transportation networks, but to reshape the jobs that build them. "We need to give those jobs and their workers the chance to form a union," he said. "Because as President Biden says, unions built the middle class."
The MOU between the Labor and Transportation departments will help facilitate efforts by the Biden administration to create more good-paying jobs that at the same time help upgrade the nation's infrastructure to 21st century standards.
The White House noted that infrastructure and transportation represent more than one out of every 10 American jobs. There is an urgent need to create pathways to high-quality jobs as the infrastructure law unlocks hundreds of billions of dollars in new investments to be funded by DOT and creates a need for construction and maintenance workers and other skilled tradespeople.
The MOU is expected to leverage the individual and combined resources and expertise of both agencies to ensure the actions necessary to meet common goals related to expanding equitable access to quality jobs for workers and communities in the development and modernization of American infrastructure. It will allow DOL and DOT to:
Assist state and local government partners as well as private-sector industry who can identify, train, employ, reskill, and retain the diverse workforce needed to rebuild and operate U.S. infrastructure;

Integrate job quality, labor standards and equal employment opportunity standards across all grants related to transportation infrastructure;

Leverage federal spending to create more good-paying jobs in fair and safe workplaces that include health, retirement and other essential benefits, and offer workers a free choice to form a union;

Create a more diverse infrastructure workforce to include more people of color and women, and;

Engage stakeholders and develop strategic partnerships with organizations that can draw on all of America's strength, talent and skill. This includes the expansion of apprenticeships in high-growth areas such as electrification, zero-emission transportation systems maintenance, bus, rail and truck operators.
« Previous
Next »