New Conn. Bills Protect Teamster Jobs, Ban Captive Audience Meetings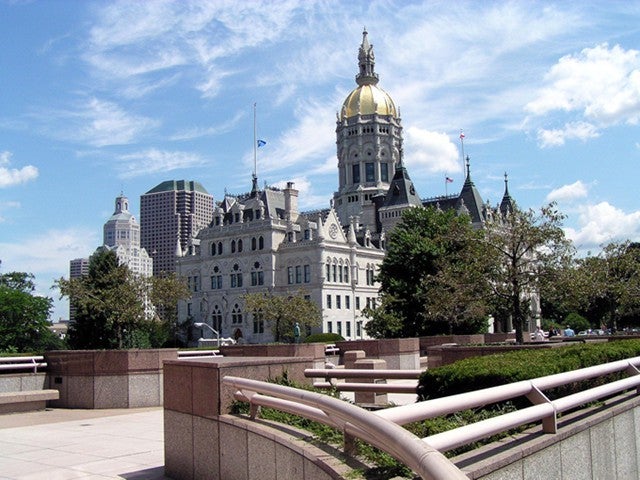 Connecticut Teamsters helped push through two essential state measures recently that will protect thousands of Teamster jobs and ensure workers trying to organize are not required to attend company-led anti-union meetings on the job.
Gov. Ned Lamont (D) signed legislation late last month to ratify an agreement his administration reached with Lockheed Martin that will keep Sikorsky's headquarters in Connecticut through 2042 and sustain some 3,500 Teamster jobs in the Nutmeg State. It also could bring new helicopter lines to Sikorsky's Stratford, Conn. facility.
Rocco Calo, Secretary-Treasurer of Teamsters Local 1150 and a Teamsters International Vice President, testified before state lawmakers in favor of the legislation. He said the potential $75 million agreement came together after years of work.
"This deal was bipartisanship at its best," he said. "I did Zoom calls in front of the Republican caucus and the Democratic caucus. This deal flew through the Senate. It was refreshing to see our lawmakers get together like that."
Lamont called it is a big win for state workers.
"I can't overstate the significance of what this means for Connecticut workers, not only for those who work directly for Sikorsky, but also for the people who are employed by the 242 suppliers located all throughout our state that contract and do business with this worldwide leading aerospace company," he stated.
Not only will the agreement benefit Connecticut Sikorsky members, Calo said, it is also a shot in the arm to some 600 other Local 1150 Sikorsky workers in three other states, including in Florida where they are helping to design the SB-1 Defiant, the next-generation helicopter competing to replace the legendary Black Hawk currently built by Teamsters.
Meanwhile, Connecticut is on the cusp of becoming only the second state in the nation to outlaw captive audience meetings after Teamster locals across the state joined with other unions to push for the mandatory meetings to be banned.
Efforts to end such required gatherings – which are a frequent tool of employers trying to undermine union organizing drives – have increasingly been gathering steam not just in the state, but nationally. Jennifer Abruzzo, General Counsel at the National Labor Relations Board (NLRB), last month called out such meetings and asked the NLRB to outlaw them.
"This license to coerce is an anomaly in labor law, inconsistent with the [law's] protection of employees' free choice," she said. "It is based on a fundamental misunderstanding of employers' speech rights."
If signed by Lamont as expected, the Connecticut legislation won't directly prohibit employers from holding meetings on "religious or political matters" — a definition that includes labor organizing.
Rather, it will neutralize the compulsory aspect of them by shielding workers from being fired, disciplined or penalized for choosing not to attend meetings in which discussing topics covered by the statute are the primary purpose.
« Previous
Next »