Waste Management Workers in Corona and Chino Ratify New Union Contract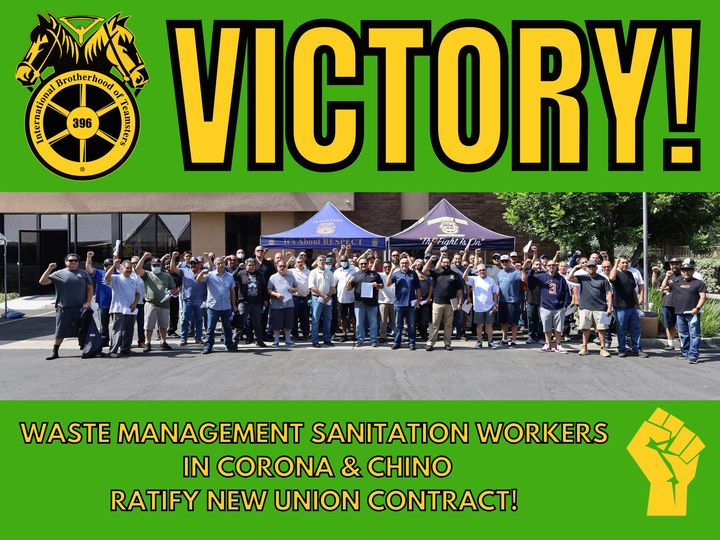 (CORONA, Calif.) — Workers employed at Waste Management in Corona and Chino won significant wage, pension, and healthcare increases after ratifying a groundbreaking contract that continues the Teamsters' record of increased wages and benefits in the Southern California sanitation industry.
Sanitation workers at Waste Management are among the essential heroes who have worked hard throughout the COVID-19 pandemic. This group of workers serves major cities throughout Riverside and San Bernardino Counties, including Corona, Chino, Norco, Chino Hills, and Eastvale.
This tremendous victory was won thanks to the courage and dedication of Teamster sanitation workers at Waste Management, who stood shoulder to shoulder in solidarity throughout the bargaining process. Some key highlights of this contract include an increase in wages of over seven dollars an hour over the five-year term of the contract, double-time pay after 12 hours of service, significant increases into the Western Conference of Teamsters Pension, and improved healthcare benefits with major savings for workers.
Teamsters Local 396 currently represents over 3,000 sanitation workers throughout Southern California and is the largest Teamster Sanitation Local in the U.S. Our Sanitation members serve communities throughout Los Angeles, Orange, Riverside, and San Bernardino Counties.
"Our members at Waste Management in Corona and Chino stood strong and won major wage and benefit increases that will continue to lift standards in an industry that has historically exploited a workforce composed primarily of immigrants and people of color," said Ron Herrera, Secretary-Treasurer of Teamsters Local 396.
« Previous
Next »