UPS Teamsters Kick Off Contract Fight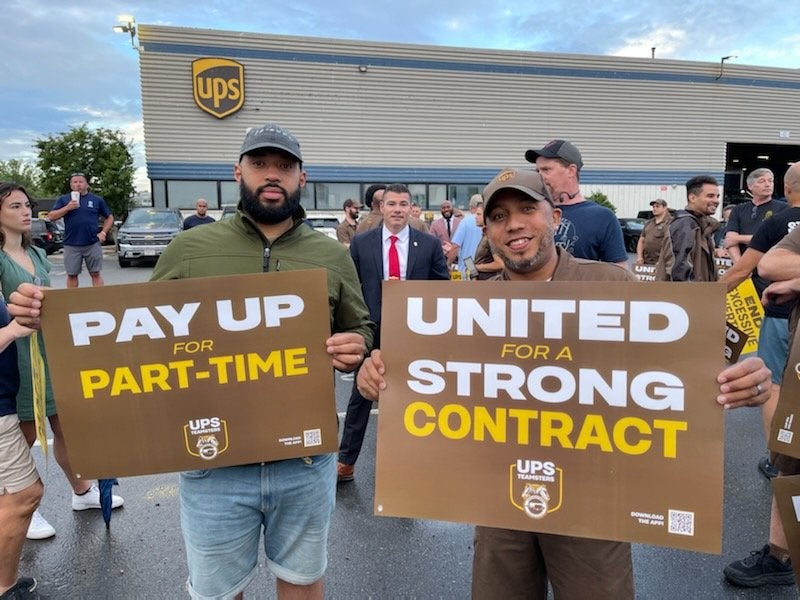 Teamster members at UPS have begun a nationwide call to action today with parking lot rallies, leafletting actions and other activities taking place at UPS centers throughout the country. With the current contract expiring in exactly one year, members are mobilizing now for the strongest possible contract in 2023.
The kick-off of this historic contract fight also coincides with the 25th anniversary of the successful 1997 UPS Teamsters strike, when 185,000 members struck the company.
"We are sending a message to UPS that the days of concessions and walking all over our members are over," said General President Sean M. O'Brien, who joined Teamsters Local 25 UPS members at a rally this morning in Boston. "UPS would not have its billion-dollar profits without hardworking Teamster members. Our message to UPS is that it's time our contract reflects the essential work of our members."
"Our members are ready to show the company that we are united at UPS, and the International will use every resource at our disposal to win the best contract in our history," said General Secretary-Treasurer Fred Zuckerman, who will visit UPS Teamsters in Traverse City, Mich. on Tuesday. "It's time to end excessive overtime, the two-tier wage 22.4 classification, subcontracting, driver-facing cameras and harassment – along with securing higher pay for part-timers and more full-time jobs."
As part of the campaign launch, Teamster local representatives, business agents, and stewards are visiting UPS facilities nationwide and distributing informational resources to members, including materials on bargaining issues and how to download the new UPS Teamsters app.
These actions are only the beginning as UPS Teamster locals and rank-and-file members plan rallies and site visits throughout the coming weeks and months, extending into next summer.
"UPS has been making huge profits off of our backs and we are coming to collect what the company owes us," said Andrew Hancock, a package driver and member of Local 538 in Zelienople, Pa. "Today is just the start of a long contract fight for me and my coworkers – and my UPS Teamster brothers and sisters nationwide. We need all locals and members to get involved and take on this fight."
In addition to the rally this morning in Boston, Teamsters in California, New York, Texas, Florida, and at hundreds of other UPS facilities across the country kicked off the campaign and will continue to mobilize for the next 365 days to ensure members are informed and united.
UPS Teamsters delivered an unprecedented volume of packages during the pandemic for businesses to run smoothly and families to safely shelter at home, and still continue to work 10-12 hour shifts and under punishing conditions like extreme heat. Workers' dedication to the company drove UPS's net profits to $11.2 billion in the last two years alone, yet the average UPS worker is paid 600 times less than CEO Carol Tomé.
"Our union is resolved to win the best contract for UPS members and to reset the standards for wages and benefits in this industry by August 1, 2023. We won't extend negotiations by a single day. We'll either have a signed agreement that day or be hitting the pavement," O'Brien said.
« Previous
Next »