Amazon Workers Walkout at Key Airhub in Southern California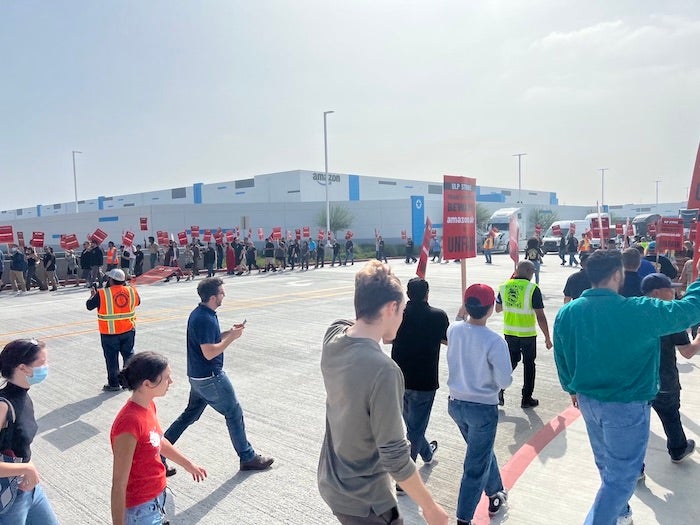 Courageous workers walked off the job today at a key Amazon Airhub in San Bernardino, Calif., in an unfair labor practice strike to demand living wages and safer working conditions. Hundreds of Teamsters and community members turned out to support the workers and protest Amazon's retaliation against those who engage in collective action.
Teamsters General President Sean M. O'Brien expressed strong support for the striking workers.
"Amazon's white-collar criminal behavior will not last and cannot be tolerated," O'Brien said. "It doesn't matter if Jeff Bezos has all the money in the world. As long as we have the grit, the organization, and the intestinal fortitude to take this fight to the streets, nothing can stop us. There are 1.2 million Teamsters supporting Amazon workers, who are ready to fight shoulder-to-shoulder to demand what we're worth and win this fight together."
Earlier this week, Amazon workers also walked out in two facilities in Georgia and in a key crossdock facility in Illinois.
Randy Korgan, Director of the Teamsters' new Amazon Division, emphasized the union's support for workers at the San Bernardino air hub, known as KSBD.
"It was through direct action, collectively in the industry, that workers fought and won the workplace rights and standards we enjoy today. Amazon poses an existential threat to these rights and standards that have been won by workers and Teamsters alike," Korgan said. "It will take a mass movement of Amazon workers, union members, and community members building worker power and taking direct action on the industry to beat back this corporate threat. The KSBD workers are a clear example of that today and all Teamsters are proud to support them."
"I was proud to be on the picket line today with KSBD workers because, as a Teamster at UPS and a resident of the Inland Empire, our fight is one in the same," said volunteer organizer Mauricio Perez. "We cannot allow Amazon to continue to exploit workers, drive down industry standards and disrespect our communities. It's time for companies like Amazon to recognize that it's us as workers who make the logistics industry function."
« Previous
Next »