Teamsters Helping Teamsters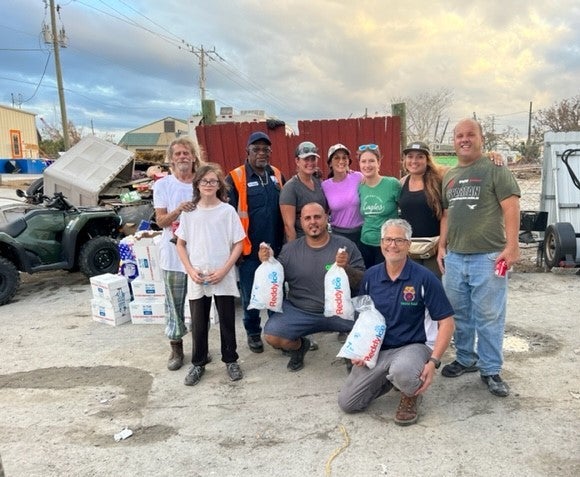 Union Provides Relief to Victims of Hurricane Ian
Hurricane Ian took a tremendous toll on parts of southwest Florida last month, resulting in more than 120 deaths statewide and tens of billions in property damage. Unfortunately, dozens of Teamster members and their families have been directly impacted by the storm as well.
Some have lost homes, property or needed to take family members in. Either way, their lives have been turned upside down. But thankfully, their union has been there to lend a hand.
"I couldn't be prouder of the response by Teamsters to help members and others who faced the wrath of Hurricane Ian," said Sean M. O'Brien, Teamsters General President. "This is what this union does best – Teamsters helping Teamsters."
Florida Teamsters have been doing all they can to improve the lives of their union brothers and sisters in the wake of this disaster. Helping lead the efforts on the ground for the Teamsters are Local 769 Business Agent David Renshaw and Local 79 Recording Secretary Ken Williams, who together have coordinated the distribution of items to reach those in need. Strong support has also come from Joint Council 75 President Jim Shurling and Local 79 President Brian Rothman.
"Around the state we've been doing outreach with all the local leaders and joint council leaders," Williams said. "We have a great system of shop stewards and we give them the tools to prepare. You have to be proactive."
Planning for storm response takes place way before landfall. In fact, Renshaw and Williams are often communicating as soon as a tropical wave forms off the coast of Africa so they can track a storm's path and discuss strategy if needed.
Getting Prepared
In the case of Hurricane Ian, Teamsters were hunkered down along Florida's west coast on Sept. 27 – before the storm hit – so they would be ready. However, they weren't able to start providing necessities until given the all-clear by first responders, which wasn't until Oct. 4.
Renshaw, joining forces with his fellow Teamsters and the Florida AFL-CIO, has helped oversee the transport of goods to some 15 distribution points across southwest Florida, including such hard-hit areas as Fort Myers, Cape Coral, and Port Charlotte. He also created a database broken down by zip code to help with the doling out of necessities.
Williams, meanwhile, has been running point from Local 79's union hall, moving a desk into the parking lot. From there, the Teamsters have been distributing goods to UPS facilities all throughout the region. He said 42 of his members have lost their homes, vehicles or suffered significant damage as a result of Hurricane Ian's wrath.
An essential part of the work is calling upon contacts that each of them has made over their years with the Teamsters. That's not only people they've worked with during past storms, but officials with the businesses and lawmakers they interact with as part of their daily jobs.
Working Together
Even if they find themselves on opposite sides of issues or the bargaining table, trying times like these bring them together, both said. "All you need is to facilitate an ask," Renshaw said. "The businesses respond and the community responds."
Williams agreed. "We are all in this together. We try to get in the boat and row in the same direction. We are all part of the community."
As a result, the Teamsters have joined forces with several companies where it has members to receive products or trailers such as ABF, Costco, Crowley Logistics, Southern Wine & Spirits, Tropicana, and UPS to keep emergency operations moving.
There is no shortage of goods people need. Although the initial focus was on drinking water, that changed as time went on to include ice, tarps, and cleaning supplies. Non-perishable foods, paper products, diapers, and personal sanitary products are also at the top of the list.
The Teamsters Disaster Relief Fund is also involved and is already in the process of reimbursing locals and joint councils for expenses incurred in their relief efforts.
When it comes to the long days involved with disaster relief, flexibility and understanding is key, Renshaw said. "You have to have a much calmer perspective," he stated. "Sometimes I get off the phone with Ken and 10 minutes later, the whole plan changes."
---
To make a tax-deductible donation to help the union's efforts, send checks to:
Teamsters Disaster Relief Fund
c/o International Brotherhood of Teamsters
25 Louisiana Ave. NW
Washington, DC 20001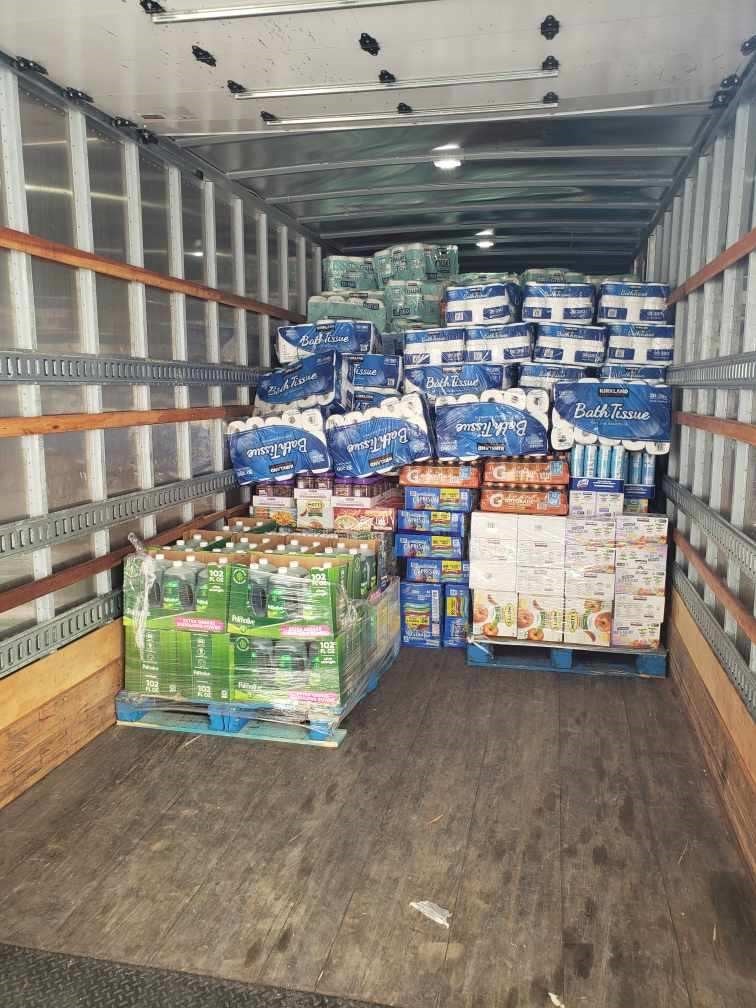 « Previous
Next »