Teamsters Local 174 UPS Members Win Almost $600,000 Award Over UPS Contract Violations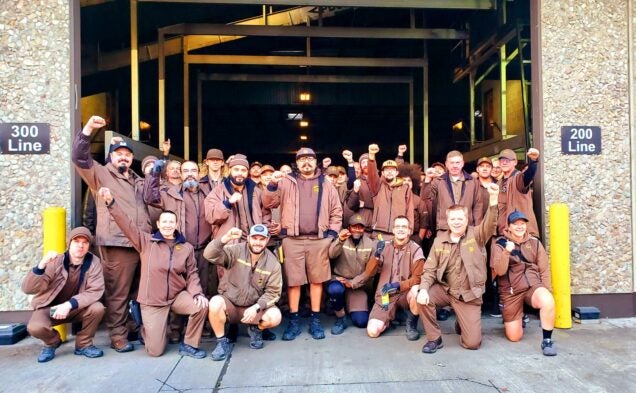 Drivers Take Home Thousands as Penalty for UPS Supervisors Performing Bargaining Unit Work
Press Contact: Jamie Fleming Phone: (425) 281-0166 Email: jfleming@teamsters174.org
(TUKWILA, Wash.) – A group of 270 package car drivers from the UPS Redmond building are receiving checks summing nearly $600,000 from UPS, after the company was found guilty of stealing bargaining unit work by the National Grievance Committee. The awards stem from Supervisors Working grievances filed by members and stewards at the facility after UPS supervisors took the drivers' dispatched work, in blatant violation of contract language protecting bargaining unit work.
UPS's arguments that COVID and hot weather were responsible for the violations, rather than their own poor management of staffing levels, were largely rejected by the UPS National Grievance Committee, resulting in the massive payout to Teamsters at UPS. The awards to drivers were paid at three times the drivers' hourly pay rate for each hour of work stolen by management.
"Understaffing has been a consistent problem at UPS, and we are sick and tired of seeing UPS supervisors flagrantly stealing Teamster work – in many cases, taking whole routes away from bid drivers – just to avoid hiring and training the workforce they need to deliver their volumes every day," said Teamsters Local 174 Secretary-Treasurer Rick Hicks. "We hope this eye-popping award from the National Grievance Committee will prompt UPS to finally make the obvious choice to hire more Teamsters to do Teamster work, rather than continuing down this arrogant and foolish path of paying supervisors to do our members' work, only to then be forced to pay our members triple-time for the same work."
Winning the case required painstaking work by Local 174 Shop Stewards, members, and Business Agent Kris DeBuck, who filed and processed over 1,600 grievances for this case alone. The resulting reams of data, evidence, timecards, and testimony made it impossible for UPS to get away with their actions.
"We are extremely proud of the hard work our entire Local 174 team did putting together a strong case to win this grievance," Hicks continued. "The only way to stop UPS from abusing our contract is to catch and punish them every time they do it, and our stewards and members were committed to seeing this grievance through to the end despite the backlogs in the UPS grievance process. Awards like this should make the company think twice about their future plans in regards to who will do the work of delivering packages – work that belongs exclusively to Teamster members, not supervisors."
Founded in 1909, Teamsters Local 174 represents 8,600 working men and women in Seattle and the surrounding areas. "Like" us on Facebook at www.facebook.com/TeamstersLocal174.
« Previous
Next »