Martin McCovey: A UPS Teamster Making Change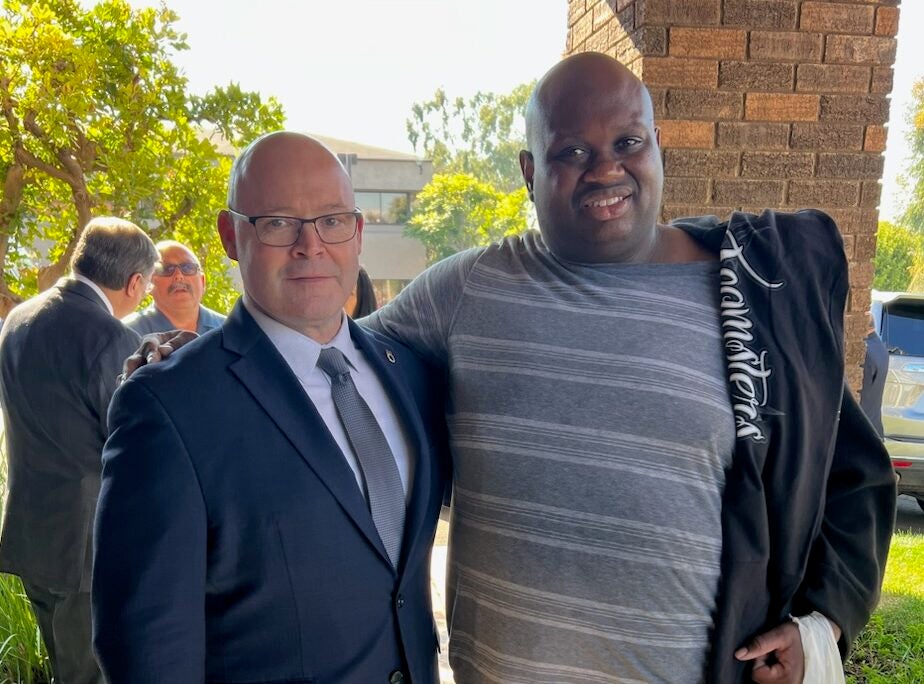 Martin McCovey has been working for 15 years at the UPS hub in Cerritos, Calif. That might not seem like a big deal, but as an autistic person, it's a testament to his dedication and determination.
"Martin's one of our most inspiring members," said Victor Mineros, Secretary-Treasurer of Teamsters Local 396 in Los Angeles. "He's always ready to take on a challenge and his devotion and advocacy for autism awareness has brought real change. We're proud to represent him."
McCovey is a package handler and air driver for UPS. He is working towards being a cover driver. Due to the great job McCovey has done at UPS, he has inspired other high-functioning autistic adults to get jobs with the company. He is also an activist. McCovey is currently working with California legislators to make driver's education available to high-functioning autistic kids in high school.
"I experienced a lot of stuff in high school where people didn't think I was capable of achieving certain things. I don't want other kids to experience that," McCovey said. "I'm working to draft a bill to make programs available so there is more understanding and acceptance for everybody."
McCovey says it's important that the public is aware that people on the spectrum have varying levels of ability and unique talents — nobody fits the same mold. Autistic adults can be independent and have the ability to drive, but in some cases might need more hours of training, extra help, or a different model to approach certain situations. Such extra attention can lead to success in their personal and work lives, and McCovey is proof that understanding, encouragement, and opportunities are all that's needed for high-functioning autistic adults to lead productive and fulfilling lives.
McCovey met with Teamsters General President Sean M. O'Brien in mid-December at his Cerritos hub where O'Brien was listening to UPS rank-and-filers' concerns and priorities as the union continues building a powerful movement for a strong contract in 2023.
O'Brien has been a staunch advocate for autism awareness, raising more than $5 million through Teamsters Local 25's annual autism gala, "Light Up the Night." One hundred percent of the money raised by the event goes to community programs. During O'Brien's tenure at the local, the gala grew to be the second-largest Autism Speaks fundraiser in the country.
"It was great getting to spend time with Martin," O'Brien said. "Just seeing everything he has accomplished and what he continues to achieve is awesome. The fact that he is the one reaching out to help others now motivates me to do even more."
Anyone who works at UPS knows that the job is physically demanding and requires stamina and focus. McCovey attributes his success at work to his attitude and positive outlook.
"I love people and I love my job," McCovey said. "I'm looking forward to my future."
Local 25's next autism gala is scheduled for Saturday, March 4, 2023, at the Boston Convention and Exhibition Center. For more information, visit TeamstersLocal25Autism.com.
« Previous
Next »