Teamster Amazon Drivers Picket California Warehouse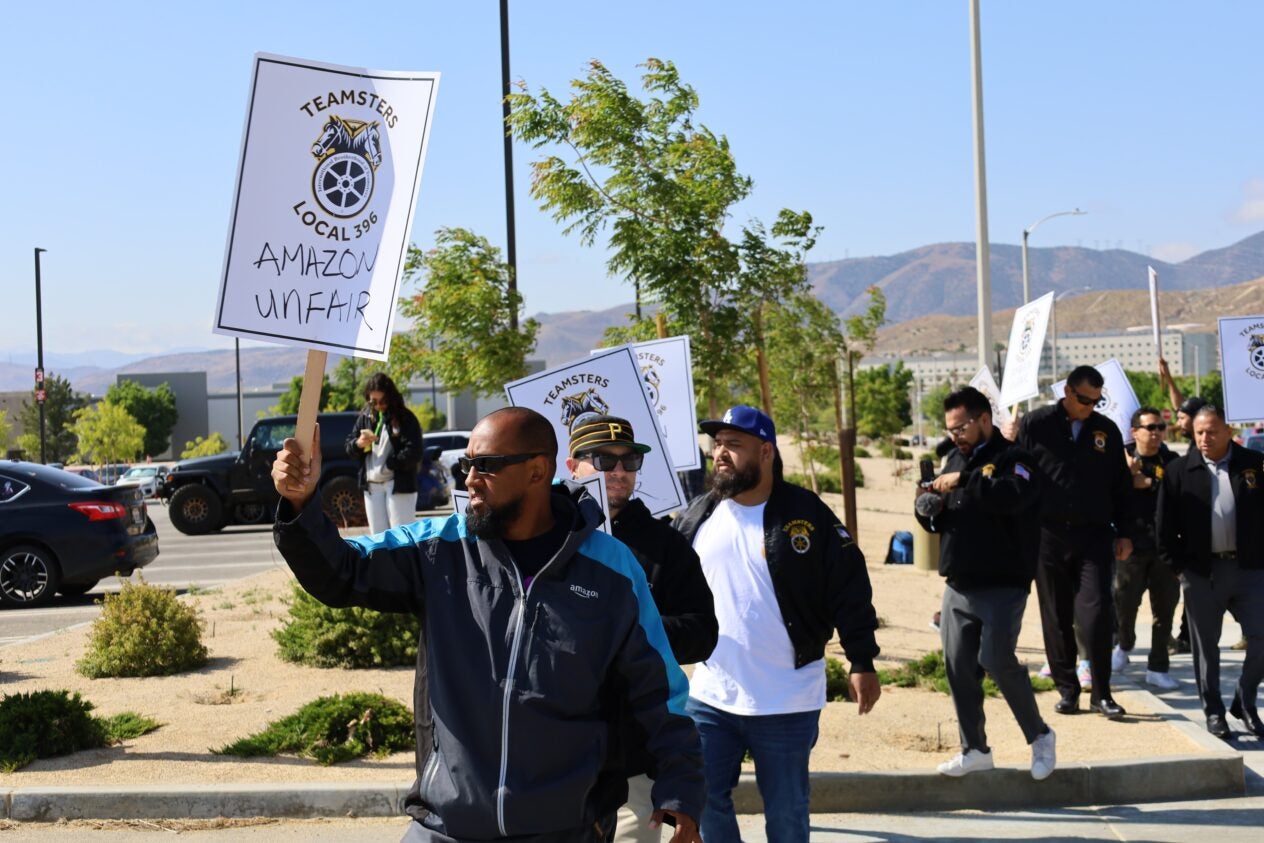 Workers Demand Amazon Take Responsibility for Dangerous Work and Low Pay
Press Contact: Kara Deniz Phone: (202) 497-6610 Email: kdeniz@teamster.org
(PALMDALE, Calif.) – Amazon drivers and dispatchers picketed the company's Palmdale, Calif., delivery station this morning, protesting the company's low wages and total disregard for worker safety.
The 84 workers at Amazon's Delivery Service Partner (DSP) Battle-Tested Strategies organized with Teamsters Local 396 in Los Angeles in April. Battle-Tested Strategies agreed to voluntarily recognize the union.
"It's been two weeks since we notified Amazon that we organized a union to address the unacceptable conditions facing Amazon delivery drivers, but Amazon has refused to come to the table to fix these problems," said Jessie Moreno, an Amazon driver taking part in the informational picket. "We know that workers are the backbone of Amazon and the packages won't be delivered without us. Today we are sending a message to Amazon to take our union and our safety seriously."
Last month, the workers voted unanimously to ratify their first union contract, securing immediate safety protections and pay increases at the notoriously anti-worker company. The Teamster contract is the first union agreement covering workers in Amazon's massive delivery network.
The Amazon drivers organized with the Teamsters over concerns for their safety in extreme temperatures, which regularly exceed 100 degrees Fahrenheit during Palmdale summers.
"We are putting our health on the line to deliver Amazon's packages," said Michael Lieb, an Amazon driver. "It feels like an oven in the back of those vans and Amazon won't fix the air conditioning even though we've been asking for years. I've gotten woozy from the heat, but don't have time to take a break because we are under so much pressure to deliver all the packages. We are holding Amazon responsible."
The workers' union contract will bring driver wages to $30 per hour by September. It also guarantees the rights of workers to drive safe equipment and refuse unsafe deliveries. Due to the extreme control that Amazon exerts over its DSPs, making the contract's protections a reality will require an overhaul of Amazon's exploitative labor practices.
"No one can live on $19.75 an hour in California. It's half of what other workers doing the same job at other companies are paid," said Cecilia Porter, an Amazon driver. "This is one of the richest companies in the world and the workers who make it profitable shouldn't have to choose between paying our bills and feeding our families."
Founded in 1903, the International Brotherhood of Teamsters represents 1.2 million hardworking people in the U.S., Canada, and Puerto Rico. Visit Teamster.org for more information. Follow us on Twitter @Teamsters and "like" us on Facebook at Facebook.com/teamsters.
« Previous
Next »