Teamsters Local 2010 Wins First-Ever Tentative Agreement for UC Davis Skilled Trades Unit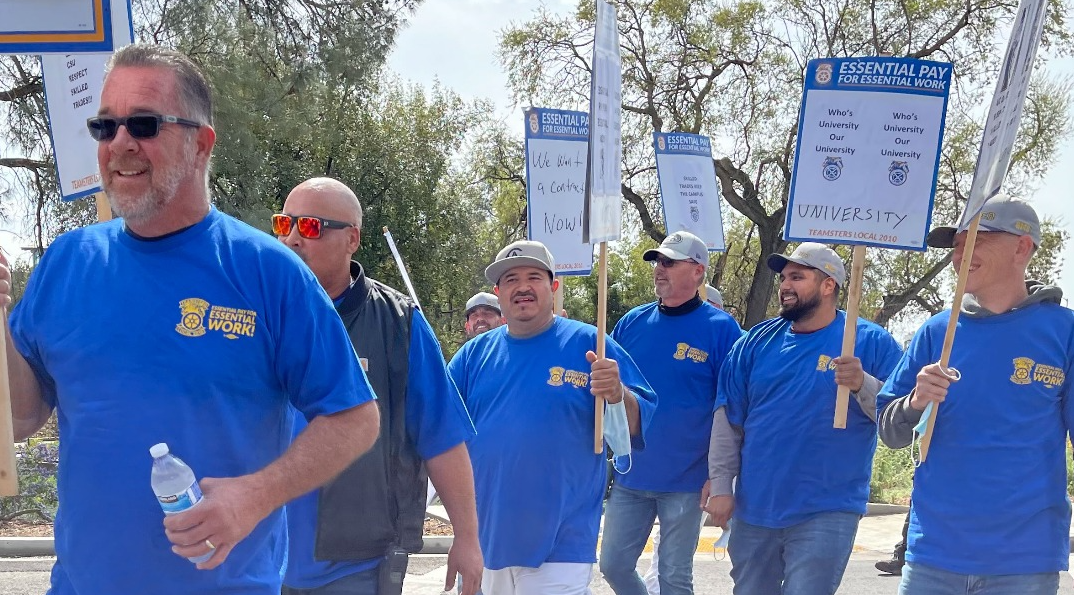 All Skilled Trades Workers at UC Now Covered by Union Contract
Press Contact: Aimee Baror Phone: abaror@teamsters2010.org Email: (213) 220-0538
(Oakland, Calif.) — Teamsters Local 2010 members in the University of California, Davis (UC Davis) Skilled Trades Unit reached their first-ever tentative agreement with the University of California (UC) this week, after two years of negotiations and dozens of worksite actions. The UC Davis Skilled Trades Unit is made up of 305 plumbers, painters, electricians, and other Skilled Trades workers at the UC Davis campus and the UC Davis Medical Center in Sacramento.
The tentative agreement includes significant gains for UC Davis Teamsters, including an 11.3 percent raise this year, a 25.2 percent compound raise over five years, and a $3,000 lump sum bonus to be paid on ratification of the agreement. New grievance and arbitration procedures – along with requirements on progressive discipline – will ensure that UC Davis workers will have a voice in their workplace and the means to protect their job security.
"This great first contract is the result of eight years of fighting and organizing by UC Davis Skilled Trades workers to win union representation and fair treatment," said Jason Rabinowitz, Secretary-Treasurer of Local 2010. "After decades without a union and living at the whims of management, UC Davis Teamsters have won unprecedented and guaranteed raises, job protections, grievance and arbitration procedures, and many more rights that they were previously denied."
The UC Davis Skilled Trades Unit unionized with Teamsters Local 2010 in November 2020 and began negotiations with UC on May 12, 2021. Prior to becoming Teamsters, they were the only remaining group of Skilled Trades workers in the UC system to be unrepresented by a union. The tentative agreement, should it be ratified, will make sure UC Davis workers see the same benefits that Skilled Trades members of Teamsters Local 2010 at campuses like UC San Diego (who won a 20.4 percent raise over four years) and UC Santa Barbara (who won a 26.4 percent over five years) have won in recent years.
"As a team we fought hard on this contract so that we could improve our workplace and provide a livable wage for all the hardworking Skilled Trades Teamsters at UC Davis," said Ryan Burgess, a UC Davis High Voltage Electrician and member of the negotiating committee. "United we bargain, divided we beg. No more begging."
UC Davis Skilled Trades Teamsters will vote on whether to ratify the tentative agreement over the upcoming weeks.

Teamsters Local 2010 represents 15,000 hardworking employees at the University of California and California State University systems. We are affiliated with the 1.2 million members of the Teamsters Union across the United States and Canada. Learn more at: https://teamsters2010.org.
« Previous
Next »