Teamsters Picket Bay Area Warehouse in Expanding Amazon Strike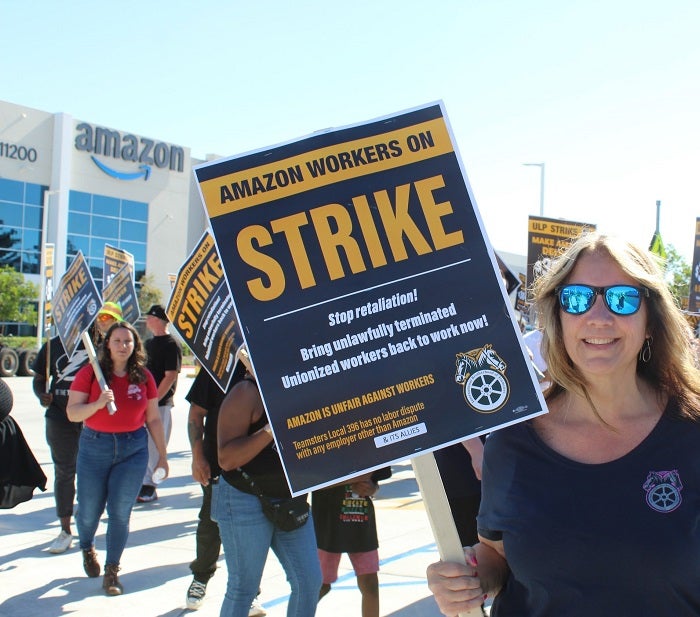 Southern Calif. Amazon Workers Picket Three Warehouses in ULP Strike
Press Contact: Shaun Martinez Phone: 619-389-9584 Email: shaunm@teamsters1932.org
Press Contact: Josh Levitt Phone: 845-641-3654 Email: josh.levitt@berlinrosen.com
(Newark, Calif.) — Striking Amazon delivery drivers and dispatchers from Palmdale, Calif, extended their picket line to an Amazon warehouse in Newark, Calif. (OAK7/OAK5) today, to demand the e-commerce giant stop its unfair labor practices. The growing strike will continue until Amazon reinstates the unlawfully terminated employees, recognizes the Teamsters, respects the contract negotiated by the workers, and bargains with the Teamsters Union to address low pay and dangerous working conditions.
"We are ready to take our strike anywhere and everywhere that Amazon works, because Amazon workers deserve to be safe on the job and free from unfair labor practices," said Michael Lieb, a striking Amazon driver from Palmdale. "I've delivered in 110-degree heat. The back of the Amazon van feels like an oven. I get lightheaded and worry if I will make it home safe. That's not okay for any worker. Amazon should recognize our union and honor our right to safe jobs."
Amazon drivers and dispatchers went on an unfair labor practice strike on June 24 at their Palmdale delivery station. The Newark facility is the third Amazon warehouse that the striking drivers have picketed during their six-day strike. They extended their picket line to an Amazon sortation center in Mira Loma, Calif. on June 25.
"Amazon needs to understand that workers are human beings, not robots," said Victor Mineros, Secretary-Treasurer of Teamsters Local 396. "Our entire union is standing behind these Teamsters and their unfair labor practice strike. Amazon should expect more disruption and more picket lines until it stops its abuse of workers and complies with the law by remedying its unfair labor practices."
The 84 workers in Palmdale joined Teamsters Local 396 in Los Angeles and bargained a contract with Amazon's Delivery Service Partner (DSP), Battle-Tested Strategies (BTS), in April. Despite the absolute control it wields over BTS and workers' terms and conditions of employment, Amazon has refused to recognize and honor the union contract. Instead, Amazon has engaged in dozens of unfair labor practices in violation of federal labor law, including terminating the entire unit of newly organized workers.
"I work in this industry for a living wage and good benefits, but Amazon is threatening all of that," said Alex Allen, a member of Teamsters Local 2785 in Daly City, Calif., who supported the striking workers
on the picket line. "Other companies try to compete with Amazon's outrageous productivity standards, so we are all overworked. I'm here on the picket line because a win for Amazon workers is a win for all workers in our industry."
Amazon drivers in Palmdale organized with the Teamsters to protect their safety in extreme temperatures, which regularly exceed 100 degrees Fahrenheit during Palmdale summers. Their Teamster contract guarantees the rights of workers to drive safe equipment and refuse unsafe deliveries. Making the contract's protections a reality will require an overhaul of Amazon's exploitative labor practices.
Founded in 1903, the International Brotherhood of Teamsters represents 1.2 million hardworking people in the U.S., Canada, and Puerto Rico. Visit Teamster.org for more information. Follow us on Twitter @Teamsters and "like" us on Facebook at Facebook.com/teamsters.
« Previous
Next »