Michigan Amazon Workers Strike During Prime Week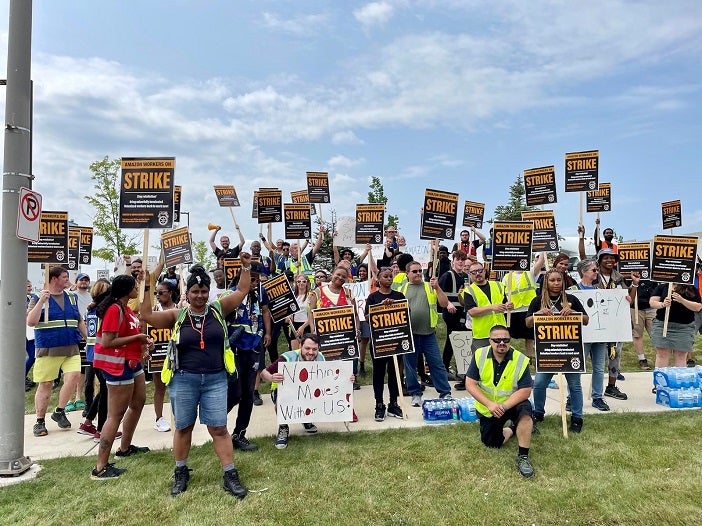 Workers Begin Unfair Labor Practice (ULP) Strike, Joined by Calif. Teamster Amazon Strikers Extending Their Picket Line
Press Contact: Kara Deniz Phone: (202) 497-6610 Email: kdeniz@teamster.org
(PONTIAC, Mich.) — Workers went on a ULP strike today at an Amazon delivery station (DDT6) in Michigan over the company's violations of federal labor law, joining a growing nationwide movement of Amazon workers who are demanding changes at the e-commerce giant. They picketed the warehouse alongside striking Amazon delivery drivers from Palmdale, Calif., who were extending their picket line as part of a three-week strike that has taken them around the country.
"We are on strike to stop Amazon's unfair labor practices and get the respect we deserve," said Alicia Ozier, a warehouse worker at the Pontiac, Mich., delivery station. "Amazon puts productivity first and our safety second. I've been injured when a box fell on my eye. The pay is too low to cover my bills. Amazon is a trillion-dollar company because of us, and we deserve to be treated fairly."
The Pontiac workers delivered a petition to Amazon management in October 2022 demanding changes to their working conditions. Amazon revoked a previous peak-season pay increase. Workers suffer injuries from heavy packages and quickly moving conveyer belts. If they are just a few minutes late for a shift, Amazon deducts a whole hour of their earned unpaid time off. The workers marched on management and wore buttons calling for improvements.
Instead of fixing the problems, Amazon committed unfair labor practices, including retaliating against an injured worker who had helped lead the petitioning and march and also refusing to provide reasonable accommodations.
"Together, we've been demanding a safe and respectful work environment for months. We have won some key improvements, but instead of addressing all our concerns, Amazon thinks they can back us off by retaliating," said Nicolas White, a warehouse worker at the Pontiac facility. "The strike by Amazon drivers in Palmdale shows that workers can fight back against this company. We invited them to extend their picket line to Michigan because this is one fight. Across the country, Amazon workers are dealing with a lot of the same problems, from low pay to dangerous working conditions. When one of my coworkers got hit by a cart and needed medical attention, they were told to keep working because Amazon was short-staffed. We are fighting back."
The strike by Amazon drivers and dispatchers in Palmdale, Calif., began on June 24. The Pontiac facility is the eighth Amazon warehouse that Palmdale Teamsters have picketed during their three-week strike, including warehouses in California, New Jersey, Connecticut, and Massachusetts. The Palmdale workers say that their growing strike will continue until Amazon reinstates the unlawfully terminated Palmdale employees, recognizes the Teamsters, respects the contract negotiated by the workers, and bargains with the Teamsters Union to address low pay and dangerous working conditions.
"In California, Amazon forces us to make deliveries in the desert summer without air conditioning in our vans. We are on strike because Amazon is breaking the law and refusing to bargain with us to address these problems," said Michael Lieb, an Amazon driver from Palmdale, Calif., who traveled to Pontiac, Mich., to picket the Amazon warehouse. "We are going to take our strike anywhere we have to to make Amazon respect the workers who wear its uniforms and deliver its packages."
"These Palmdale Amazon workers organized a union for fair pay and safe jobs, but Amazon illegally refused to recognize their union or bargain with them," said Victor Mineros, Secretary-Treasurer of Teamsters Local 396 in Los Angeles. "The support from communities around these warehouses and other workers in this industry has been tremendous. We are going to hold this corporate criminal accountable for how it treats the workers who wear its uniforms and deliver its packages."
The 84 workers in Palmdale joined Teamsters Local 396 and bargained a contract with Amazon's Delivery Service Partner (DSP), Battle-Tested Strategies (BTS), in April. Despite the absolute control it wields over BTS and workers' terms and conditions of employment, Amazon has refused to recognize and honor the union contract. Instead, Amazon has engaged in dozens of unfair labor practices in violation of federal labor law, including terminating the entire unit of newly organized workers.
The strikes come amid a surge of action by Amazon workers around the world, joining striking Amazon workers in Coventry, England and Hamburg, Germany.
Founded in 1903, the International Brotherhood of Teamsters represents 1.2 million hardworking people in the U.S., Canada, and Puerto Rico. Visit Teamster.org for more information. Follow us on Twitter @Teamsters and "like" us on Facebook at Facebook.com/teamsters.
« Previous
Next »