California Teamsters Demand Chedraui/Smart & Final Respect Workers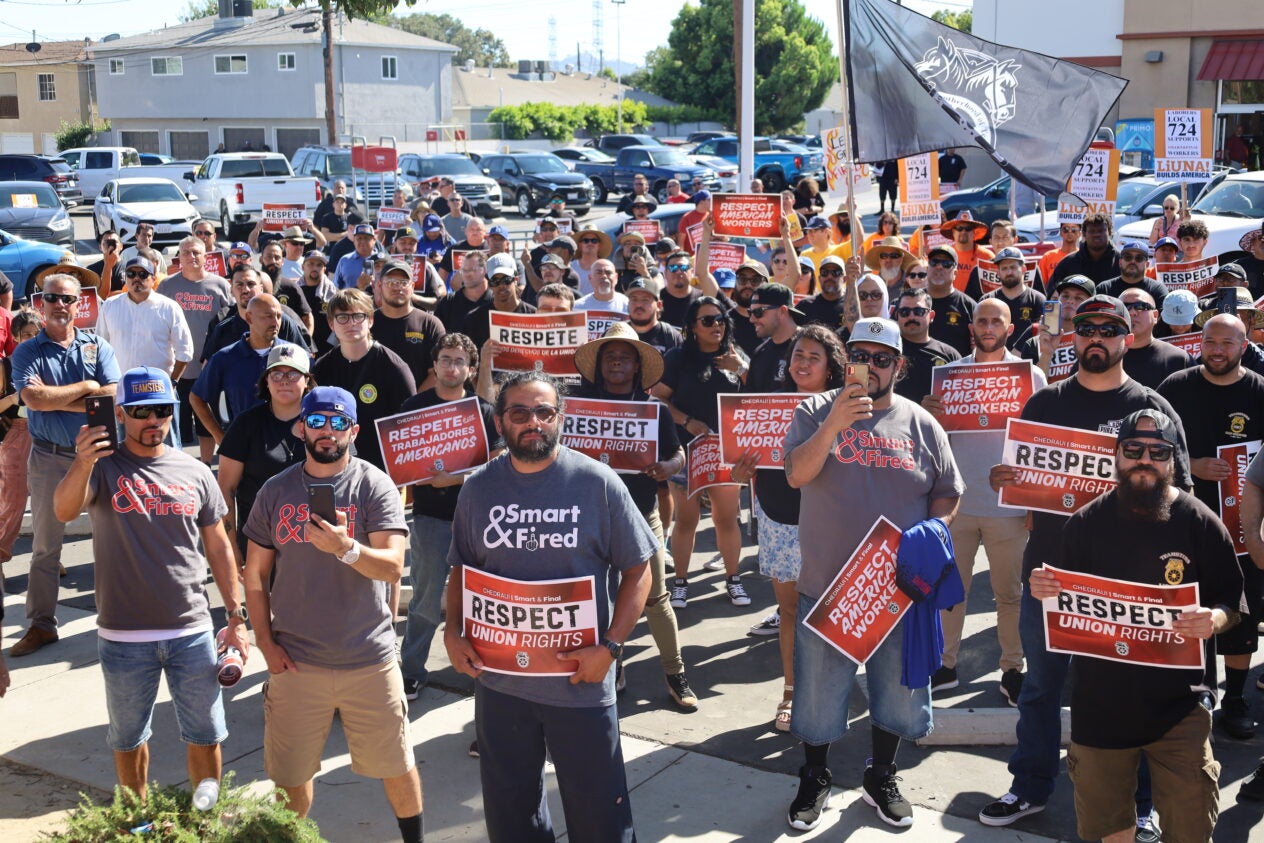 Warehouse Workers Protest Company's Attempts to Destroy Jobs
Press Contact: Daniel Moskowitz Phone: (770) 262-4971 Email: dmoskowitz@teamster.org
(BURBANK, Calif.) – Teamsters Local 630 members who work at two Chedraui-owned Smart & Final grocery store warehouses in Southern California rallied this week to demand the company guarantee their jobs at just wages and with a union contract.
"This is about stopping this company from coming into our community to bust up the union and destroy jobs," said Lou Villalvazo, Secretary-Treasurer of Local 630 in Los Angeles. "If Chedraui wants to benefit from the skills of the American workforce, it needs to pay workers what they are worth."
Teamsters are fighting plans by Chedraui USA, the U.S. subsidiary of Mexican grocery giant Grupo Chedraui, to close two unionized Smart & Final warehouses and force longtime employees to reapply for their jobs at a new warehouse.
"We will not stand idly by as Chedraui tries to upend the lives of our members," said Tom Erickson, Director of the Teamsters Warehouse Division. "If this company does not wise up and bargain with us in good faith, then you can be sure they will continue to have a fight on their hands."
The Teamsters were joined at the rally by supporters from the community to demand that Chedraui bargain a first contract for these 600 workers in good faith and provide assurances of job security and union representation.
"Chedraui needs to show some respect for dedicated workers like me who break our backs for this company," said Joe Lagano, a 32-year veteran at Smart & Final. "We will keep fighting until Chedraui comes to the table and gives us a contract that we deserve."
For more than 80 years, Teamsters Local 630 has represented California workers in warehousing, food services, liquor, food processing, dairy and more industries. Find out more at teamsters630.org.
« Previous
Next »