Rail Teamsters Win Paid Sick Leave from BNSF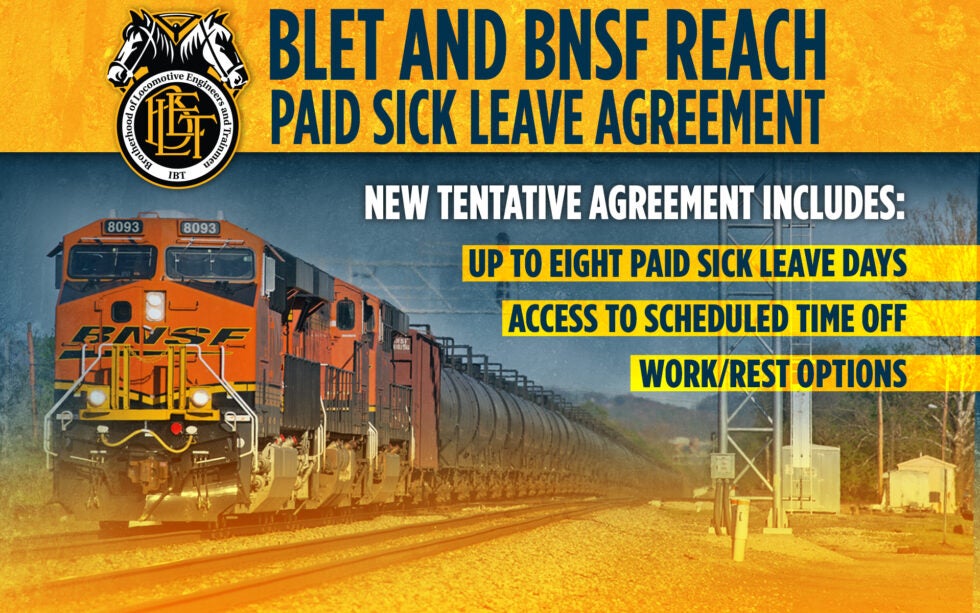 New Tentative Agreement Includes Improved Work Schedules
The Brotherhood of Locomotive Engineers and Trainmen (BLET) of the Teamsters Rail Conference announced in August a tentative system-wide agreement with the BNSF Railway that will substantially improve the lives of BLET members.
The tentative agreement includes up to eight paid sick leave days and grants access to scheduled time off.
"I thank the BLET's General Chairmen and Vice General Chairmen at BNSF for negotiating this tentative contract designed to improve the quality of life for locomotive engineers," said BLET National President Eddie Hall.
The breakthrough agreement comes after several months of negotiations. The agreement will allow for more predictable scheduling and let engineers take paid sick leave without any penalty.
The agreement introduces work/rest options that can be implemented in every pool. Locomotive engineers will have the opportunity to earn an "Earned Day Off" (EDO) quarterly.
About 7,500 BLET members at BNSF will receive detailed information about the tentative agreement. A ratification vote is scheduled for September.
« Previous
Next »