Teamsters Applaud California Senate for Passing AV Bill, Demand Gov. Newsom Sign It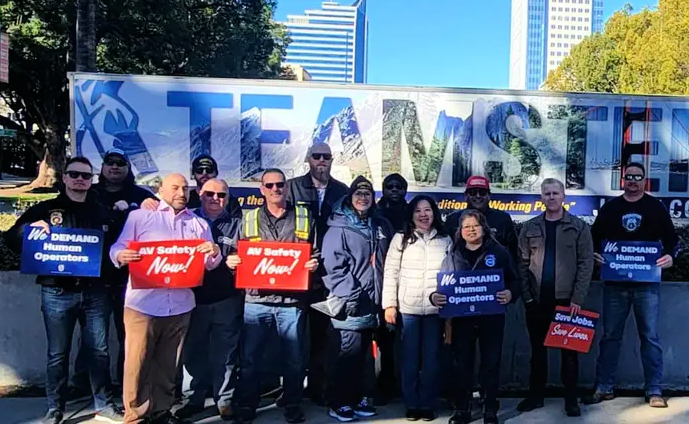 Nearly Three-Quarters Of California Voters Support Human Operators In Autonomous Trucks
Press Contact: Matt McQuaid Phone: (202) 624-6877 Email: mmcquaid@teamster.org
(SACRAMENTO, Calif.) – Teamster-supported legislation that would require a trained human operator in autonomous vehicles weighing over 10,000 pounds overwhelmingly passed the California Senate today with strong bipartisan support. California Assembly Bill 316 (AB 316), first introduced in January by Cecilia Aguiar-Curry (D-Winters), Laura Friedman (D-Glendale), Tom Lackey (R-Palmdale), and Ash Kalra (D-San Jose), received votes in favor from all but four state senators. It now heads to Governor Gavin Newsom.
"During the pandemic, Gov. Newsom thanked Teamster truck drivers for risking their lives to keep the economy afloat. But he actually needs to prove that he cares about workers by signing AB 316. If Gov. Newsom vetoes this bill, he is putting the livelihoods of hundreds of thousands of truck drivers at risk, while jeopardizing public safety," said Teamsters General President Sean M. O'Brien. "The Teamsters rightfully stand against such dangerous technology. We will fight to make sure AB 316 becomes law."
"I am thrilled that AB316 passed the California Senate with bi-partisan support," said Assembly Speaker Pro Tempore Cecilia Aguiar-Curry (D – Winter). 'The people of California have spoken – they are scared of moving too fast with this technology, before it cane be proven to be safe. Furthermore, the rush to profits while ignoring the impact on public safety and jobs must not happen."
Today's vote comes on the heels of new public polling showing that nearly three-fourths of Californians across party lines, gender, geography, and all other demographics support AB 316, which would help keep California roads safe and protect good-paying jobs. The poll also highlights that an overwhelming number of Californians are uncomfortable being on the road alongside driverless vehicles. The Governor's Office of Business and Economic Development recently voiced opposition to AB 316 via an agency letter, indicating that top officials in the Newsom administration aren't listening to the concerns of California voters.
The Teamsters will rally in Los Angeles and Sacramento next week, alongside thousands of labor allies, elected officials, and California public safety officials in support of AB 316.
"AV companies have lost billions of dollars in the self-driving vehicle space over the last few years and are now trying to appease their investors by imposing unsafe, inadequate products on the public. These corporate elites have no regard whatsoever for the safety or prosperity of the communities they will put in harm's way. Gov. Newsom needs to do right by Californians — not these companies — immediately," said Jason Rabinowitz, President of Teamsters Joint Council 7. "California voters, legislators, public safety officials, and workers all support this bil. This should be a no-brainer."
Collisions and accidents with self-driving vehicles continue to occur throughout San Francisco. Earlier this month, the California Public Utilities Commission approved the permits for autonomous vehicles companies Waymo and Cruise to expand driverless operations in San Francisco, even amid public outcry from local leaders and public safety officials. However, it only took a matter of days before havoc hit San Francisco, including a fatal accident where two Cruise taxis stopped on a one-way street and blocked an ambulance with a dying patient.
"AV companies do not care about the safety and wellbeing of Californians. There are hundreds of thousands of trucking jobs in jeopardy due to automation in our state, and that's a real problem that needs to be addressed now," said Lorena Gonzalez, California Labor Federation Executive Secretary-Treasurer. "AB 316 has seamlessly passed through the California Legislature with strong bipartisan support because safety and good jobs are issues everyone can get behind. It's time for Gov. Newsom to sign AB 316 into law."
"Opposition to AB 316 comes from a place of being woefully out-of-touch with middle-class Californians who are concerned about the impact autonomous vehicles will have on their safety and livelihoods. Over 200,000 Californians turn a key for a living, so where is the plan to protect them?" said Chris Griswold, President of Teamsters Joint Council 42. "The whole country knows California is facing a massive homelessness crisis right now. If Gov. Newsom doesn't want it to get worse, he needs to sign AB 316."
AB 316 is supported by the Teamsters and the California Labor Federation.
Founded in 1903, the International Brotherhood of Teamsters represents 1.2 million hardworking people in the U.S., Canada, and Puerto Rico. Visit Teamster.org for more information. Follow us on Twitter @Teamsters and "like" us on Facebook at Facebook.com/teamsters.
« Previous
Next »