Teamsters, Labor Allies Demand Gov. Newsom Sign AB 316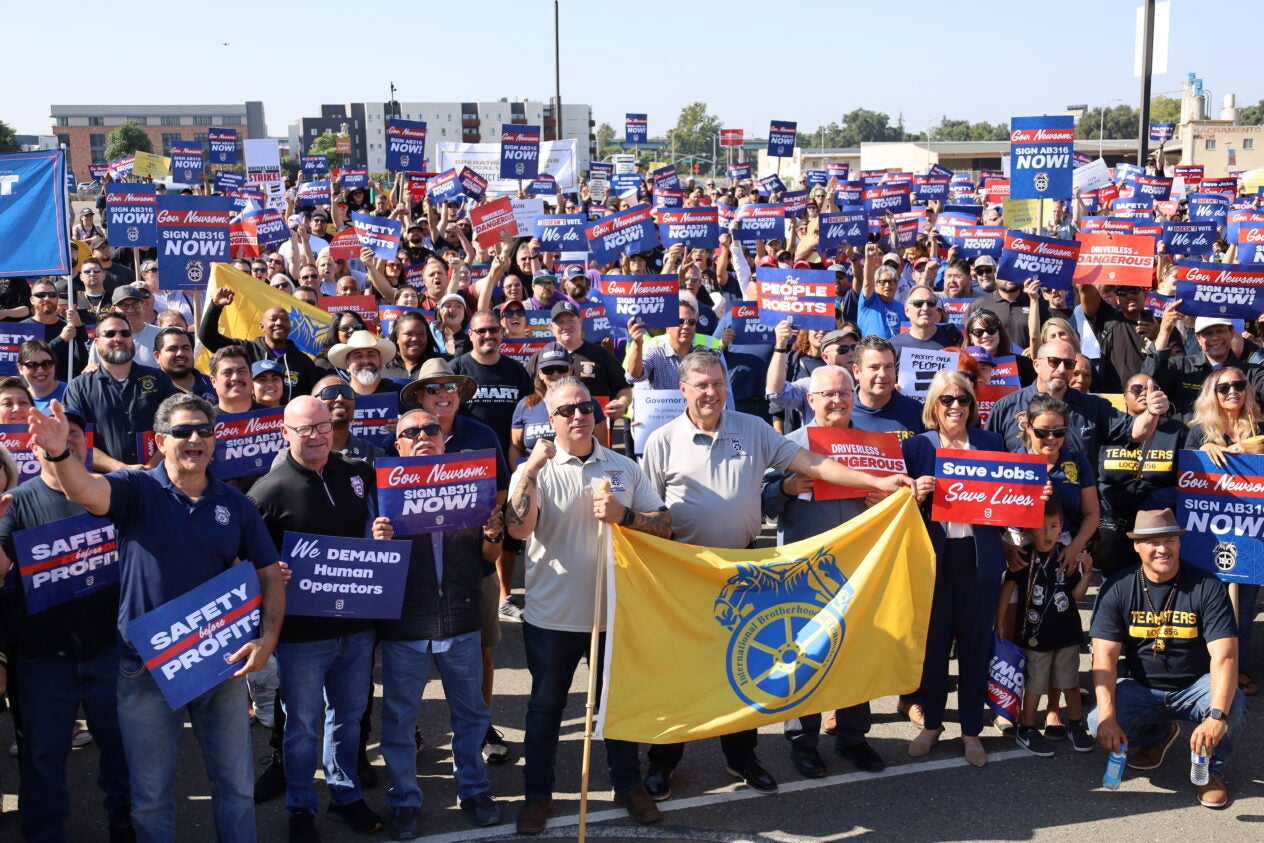 Thousands March on California Capitol for Good Jobs, Protections from AVs
Press Contact: Matt McQuaid Phone: (202) 624-6877 Email: mmcquaid@teamster.org
(SACRAMENTO) – Teamsters, thousands of labor allies, California elected officials, and public safety officials rallied and marched to the State Capitol on Tuesday to demand Gov. Gavin Newsom sign California Assembly Bill 316 (AB 316). The Teamster-backed bill, which more than 90 percent of the California legislature voted in favor of, requires a trained human operator in autonomous vehicles weighing over 10,000 pounds. Gov. Newsom has until October 14 to sign the bill into law.
"If Gov. Newsom chooses to not do the right thing, he is sending a message to California and every state in this country that technology should overrule middle-class jobs," said Teamsters General President Sean M. O'Brien. "Gov. Newsom, I got a message for you: you want to sign this bill and take on 1.2 million Teamsters in this country? Put your helmet on and buckle in your chinstrap."
Labor leaders called on Gov. Newsom to prioritize workers before Big Tech, while union members held signs that read, "Driverless is Dangerous" and "Gov. Newsom: Sign AB 316 Now!"
"I'm here today because Gavin Newsom has signaled his intent to turn his back on the safety of 39 million Californians and veto AB 316, not only putting every California driver in danger, but opening Big Tech to eliminating hundreds of thousands of jobs," said Mike Di Bene, a member of Teamsters Local 70 in Oakland. "AB 316 is the least we must do."
"This bill is simple. It's bipartisan legislation with Republicans and Democrats coming together because it's the right thing, not just for working people in California and nationwide, but also for our communities to protect our children and families," said Lindsay Dougherty, Teamsters Western Region International Vice President and Secretary-Treasurer of Teamsters Local 399 in Hollywood.
WATCH TUESDAY'S RALLY:
"We are here to let the Governor know that we need him to sign AB 316 into law to protect our streets and our good jobs from dangerous robot trucks," said Jason Rabinowitz, President of Teamsters Joint Council 7 and Secretary-Treasurer of Teamsters Local 2010 in Oakland. "It's a commonsense thing — that's why 75 percent of Californians support it, and that's why it cruised through the legislature with near unanimous support. Now it's on the Governor's desk. He needs to sign that bill."
"As our experience in San Francisco has shown, these vehicles are not ready for primetime," said Peter Finn, Teamsters Western Region International Vice President and Secretary-Treasurer of Teamsters Local 856 in San Francisco. "The threat to our safety is only going to increase when they put this unproven technology in trucks over 10,000 pounds. Why are corporations rushing to put this risky tech on our street before it's safe? One simple reason: greed."
"Here are the facts on AB 316: it passed the legislature with no problem, and it has overwhelming bipartisan support," said Chris Griswold, Teamsters International Vice President At-Large and President of Teamsters Joint Council 42 in Southern California. "What is Gavin Newsom not hearing? How often in this country do we see bipartisan support for a bill like this? Rarely these days. This is about safety. This is about saving jobs. I'm not sure what he doesn't get."
AB 316 was introduced in January by Assemblymembers Cecilia Aguiar-Curry (D-Winters), Laura Friedman (D-Glendale), Tom Lackey (R-Palmdale), and Ash Kalra (D-San Jose).
"I have 114 of my fellow colleagues who voted for this bill. Constituents want this bill signed. My soul is in this bill… I will continue to fight for our families, and workers, and for every single one of you," Assemblymember Cecilia Aguiar-Curry (D-Winters) said to the crowd during the rally.
"I am alive because of a truck driver. I know the value of this very critical bill, and I've been with you from the very beginning. We're not against technology — we want balance," said Assemblymember Tom Lackey (R-Palmdale). "We don't want AI to stand for accident investigation. Gov. Newsom, please do not let the support of technology stand in the way of people and public safety. Please don't ignore the voice of the Teamsters."
Tuesday's events followed a rally in Los Angeles where working people across industries, including trucking, film production, and law enforcement, demanded Gov. Newsom sign AB 316 and protect good jobs amid the growing use of AI. The Los Angeles rally also kicked off a six-hour caravan for more than a dozen Teamster tractor-trailers that drove up to Sacramento in a show of union strength.
Recent public polling shows that nearly three-fourths of Californians across party lines, gender, geography, and all other demographics support AB 316 — unsurprising data given that collisions and accidents with self-driving vehicles continue to occur. Despite the bill's overwhelming support and widespread concern about how dangerous self-driving trucks and cars can be, the Governor's Office of Business and Economic Development recently voiced opposition to AB 316 in an agency letter.
"This is about the future of work, and I am tired of people talking about the future of work without talking about the future of workers," said Lorena Gonzalez, California Labor Federation Executive Secretary-Treasurer. "Big Tech continues to say, 'We're going to make life more efficient.' No. You're going to make your life more profitable."
Founded in 1903, the International Brotherhood of Teamsters represents 1.2 million hardworking people in the U.S., Canada, and Puerto Rico. Visit Teamster.org for more information. Follow us on Twitter @Teamsters and "like" us on Facebook at Facebook.com/teamsters.
« Previous
Next »