Teamsters, Union Coalition Strike Detroit Casinos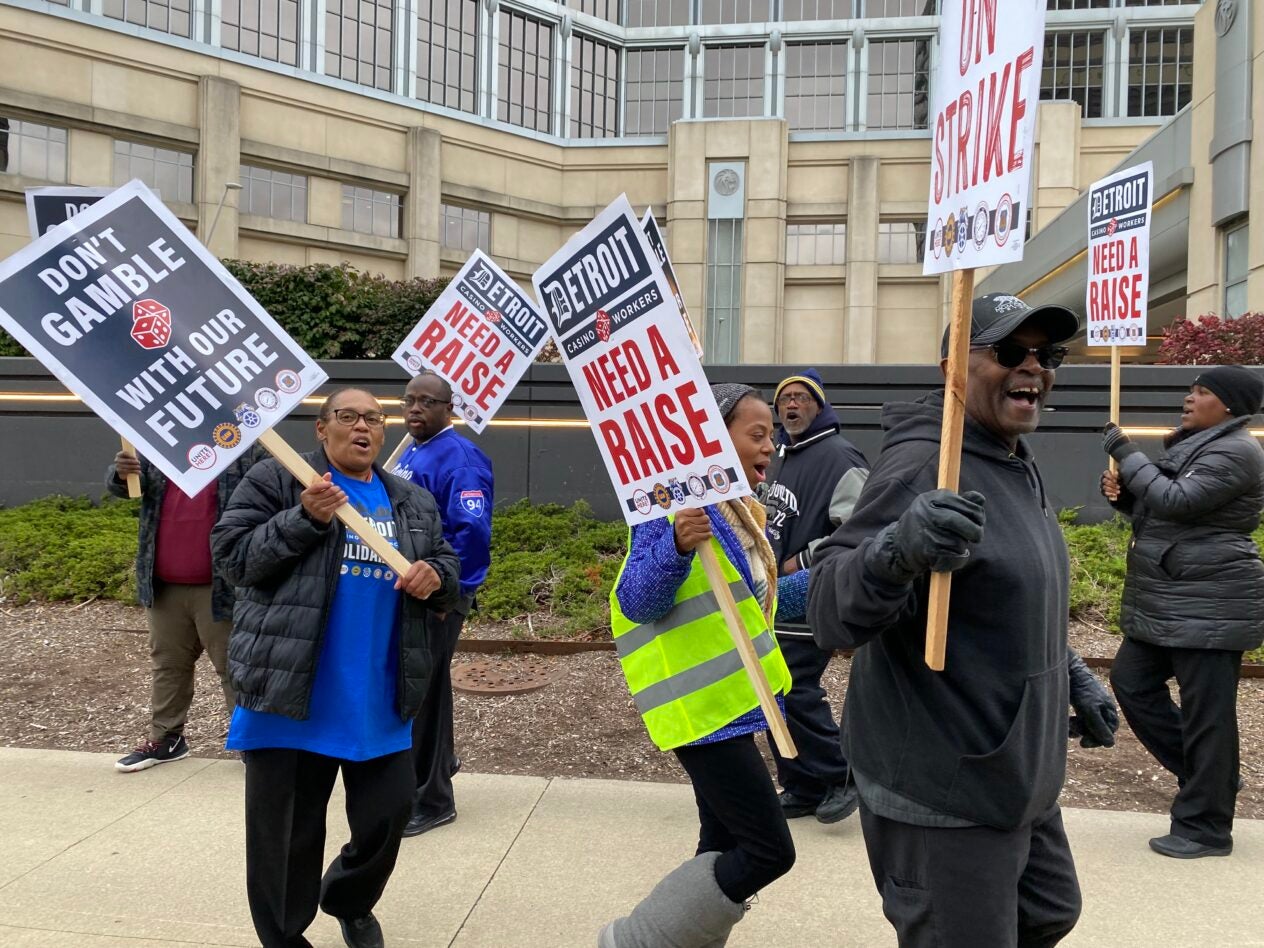 3,700 Workers Forced to Strike After Detroit Casinos Fail to Deliver Fair Contract
Press Contact: Kara Deniz Phone: (202) 497-6610 Email: kdeniz@teamster.org
(DETROIT) – Teamsters Local 1038 and a coalition of unions representing Detroit's 3,700 casino workers were forced onto the picket line today after the city's three largest casinos failed to deliver a fair contract.
Negotiations on a new agreement have been ongoing since early September. Despite record-breaking profits, MGM Grand Detroit, Hollywood at Greektown, and MotorCity Casino could not produce an acceptable contract offer by the October 16 deadline.
Members of Local 1038, UNITE HERE Local 24, United Auto Workers Local 7777, International Union of Operating Engineers Local 324, and the Michigan Regional Council of Carpenters went on strike at noon. Workers are demanding wage increases that keep up with inflation, strengthened retirement benefits, health care protections, and safeguards against the implementation of new technology.
"These casinos paint a clear picture of what greed looks like. They bring in money hand over fist and still refuse to pay working people livable wages," said Teamsters General President Sean M. O'Brien. "Nearly 4,000 workers, including the Teamsters, aren't going to tolerate such corporate corruption. Workers will remain united and withhold our labor until a respectable agreement is put on the table. You can bet on it."
"The big three Detroit casinos have left our members with no choice but to go out on strike," said Tommy Blitsch, Director of the Teamsters Convention, Trade Show, and Casino Division. "These casinos are making record profits thanks to our members' hard work and dedication. We will not back down until we get the contract we have earned and deserve."
In 2022, the Detroit casino industry generated $2.27 billion in gaming revenue, the highest ever recorded profits since Detroit legalized casino gaming in 1996. MGM Resorts International, the MGM Grand Detroit's parent company, reported "all-time record" companywide revenues in the second quarter of this year. Similarly, PENN Entertainment, the parent company of Hollywood at Greektown, reported higher revenues and profits than at any point before the pandemic.
In the last year, both companies have spent billions to benefit Wall Street shareholders, with MGM spending over $2 billion and PENN spending $750 million on stock buybacks.
Strike actions will have a wall-to-wall impact on operations as unionized casino workers demand better treatment from employers for workers across classifications, including dealers, cleaning staff, food and beverage workers, valets, engineers, and others.
Founded in 1903, the International Brotherhood of Teamsters represents 1.2 million hardworking people in the U.S., Canada, and Puerto Rico. Visit Teamster.org to learn more. Follow us on Twitter @Teamsters and "like" us on Facebook at Facebook.com/teamsters.
« Previous
Next »