Workers' Memorial Day – April 28, 2020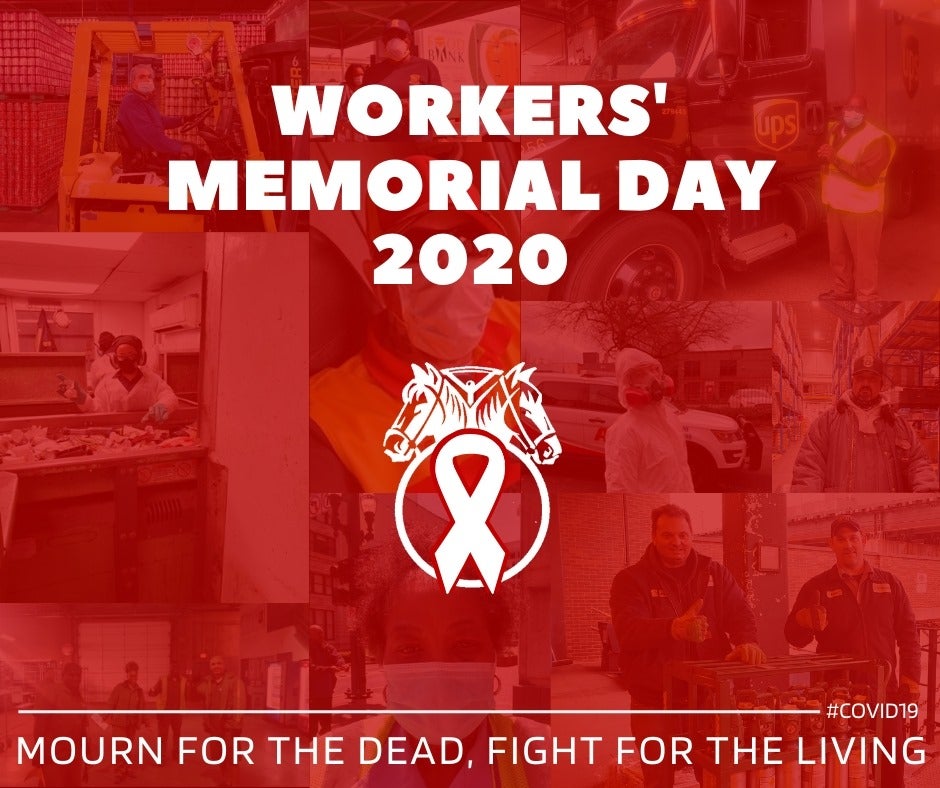 Protect Your Rights. Speak Up for Safe Jobs.
The Teamsters Union, and trade unionists around the world, recognize April 28 as Workers' Memorial Day — an international day of remembrance and action for workers killed, disabled, injured or made ill by their work.
Workers' Memorial Day is an opportunity to highlight the preventable nature of most workplace injuries and illnesses, and to promote the fight for improving health and safety at each and every workplace. To help mark this important day, the International Brotherhood of Teamsters (IBT) is providing the following resources to help with the planning of activities at local unions and workplaces.
Background
Decades of struggle by workers and their unions have resulted in significant improvements in working conditions. But the toll of workplace injuries, illnesses, and deaths remains enormous.
Since 1989, the U.S. labor movement has observed Workers' Memorial Day to remember those who have suffered and died on the job. April 28 was chosen because it is the anniversary of the Occupational Safety and Health Administration. Workers' Memorial Day has been officially endorsed by the International Confederation of Free Trade Unions (ICFTU) and the International Labor Organization (ILO) and is now observed in nearly 100 countries.
The U.S. Bureau of Labor Statistics (BLS) produces a wide range of information about workplace injuries and illnesses. These data are collected and reported annually through the Survey of Occupational Injuries and Illnesses (SOII) and the Census of Fatal Occupational Injuries (CFOI). The most recently published data updated as of 2018 is detailed below.
Census of Fatal Occupational Injuries Summary, 2018[i]
About 5,250 workers were killed on the job in 2018 (2 percent increase from the 5,147 in 2017). Another 50,000 to 60,000 workers died from occupational diseases. This is the fourth consecutive increase in annual workplace fatalities, and the first time more than 5,000 deaths have been recorded by the Census of Fatal Occupational Injuries (CFOI) since 2008. Transportation incidents remained the most frequent type of fatal event at 2,080, accounting for 40 percent of all work-related fatalities. Fatal falls, slips, and trips remain the second-largest event, but it decreased 11 percent to 791, after reaching a series high of 887 in 2017. This decline was due to a 14 percent drop in falls to a lower level (713 to 615), the lowest total since 2013. Incidents involving contact with objects and equipment increased 13 percent (from 695 to 786), driven by a 39 percent increase in workers caught in running equipment or machinery and a 17 percent increase in workers struck by falling objects or equipment. Unintentional overdoses due to nonmedical use of drugs or alcohol while at work increased 12 percent from 272 to 305. This is the sixth consecutive annual increase. Violence and other injuries by persons or animals increased 3 percent in 2018, due to an 11 percent increase in work-related suicides from 275 to 304.
Fatality Data by Occupation
Driver/sales workers and truck drivers had the most fatalities of any broad occupation group at 966. Among all detailed occupations, heavy and tractor-trailer truck drivers had the most deaths at 831. Police and sheriff's patrol officers had 108 fatalities in 2018, up 14 percent from 2017. Fatal injuries to taxi drivers and chauffeurs declined by 24 percent to 47, the lowest total since 2003 when comparable
Fatality Data by Worker Demographics
Fatalities to non-Hispanic Black or African American workers increased 16 percent to 615 in 2018, the highest total since 1999. Their fatal injury rate also increased from 3.2 per 100,000 FTE workers in 2017 to 3.6 in 2018. Hispanic or Latino workers experienced 961 deaths in 2018, a 6 percent increase from 2017.
Nonfatal Workplace Injury and Illness, 2018
There were 2.8 million nonfatal workplace injuries and illnesses reported by private industry employers in 2018, unchanged from 2017. The incidence rate for total recordable cases (TRC) in private industry also remained unchanged from a year ago. This is the first year since 2012 that the TRC rate did not decline. The incidence rates for days away from work (DAFW) cases and for days of job transfer and restriction only (DJTR) cases did not change from 2017. Of the 900,380 DAFW cases in private industry, 333,830 (37 percent) required a visit to a medical facility. Of these, 294,750 required a trip to the emergency room and did not require hospitalization, and 39,080 cases required in-patient hospitalization, either with or without an E.R. visit.
---
[i] https://www.bls.gov/iif/oshover.htm
Resources
To help mark this important day, the IBT is providing the following resources to help with the planning of activities at local unions and workplaces:
Statement from James P. Hoffa, Teamsters General President
Letter from Lamont Byrd, Teamsters Safety and Health Director
Workplace Fatality Report Form
Safety and Health Management Guidelines
Fact Sheet for Workers' Memorial Day Activities
Sample Press Release After Event
A Collection of Workers' Memorials
Fact Sheet on Your Rights as a Whistleblower
Fact Sheet on Whistleblower Protection for Commercial Motor Carrier Workers
Fact Sheet on Whistleblower Protection for Railroad Employees