Ending Worker Exploitation Is Key To Healthy Economy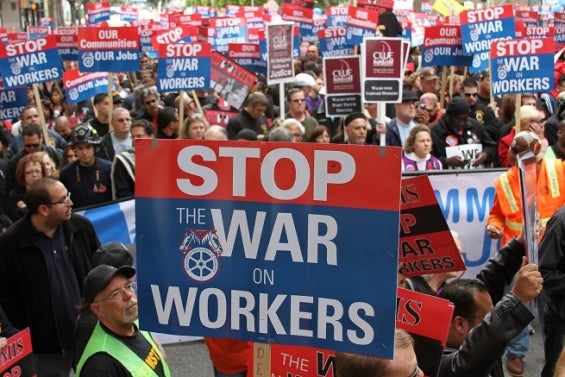 Raising pay is not only beneficial to the workers who would receive more, it would help corporate America as well, U.S. Labor Secretary Thomas Perez and economists with the Economic Policy Institute (EPI) agree.
As it stands, low wages are stifling the U.S. economy and hurting many of the same companies that pay them, a new EPI report states. The document finds that more money in the pocket of workers would allow families to pay for everyday necessities, which in turn would benefit big businesses that produce and sell them.
"If Congress agreed to increase the minimum wage, we'd be growing even faster," Perez told those gathered at the EPI report roll out yesterday. He added that given the increase in worker productivity that has taken place in recent years, corporations owe their employees more. "It's not like there isn't a lot of work and prosperity, it's that workers aren't getting their fair share," Perez stated.
Data highlighted in the EPI report backs that up. It notes that between 1979 and 2013, productivity grew nearly 65 percent, while hourly compensation of production and nonsupervisory workers grew just 8.2 percent. Thus, productivity grew eight times faster than the typical workers' pay.
Elise Gould, a director with EPI, said given that earned income represents 70 percent of wages earned by those in the bottom fifth of the U.S., increasing pay is paramount for improving the fortunes of the nation's poorest. "Wages have to be key to reducing poverty," she said.
Perez lauded companies like Costco for doing the right thing and paying their workers a middle-class wage that can support a family. But he noted that too many aren't doing enough, citing statistics showing the top five percent earned 38 percent of wages in 2012, up from 28 percent in 1995.
One of those companies is produce processor Taylor Farms. The Tracy, Calif. outfit has increasingly turned to using "perma-temp" workers who are not officially employed by the company, although they work side-by-side for those who are. The Teamsters are currently in the process of organizing some 900 mostly Latino workers who have suffered through years of low pay and minimal benefits.
Taylor Farms, however, is far from the only employer engaged in such activity. In fact, it is such a problem in California that the state Assembly approved a bill last week to create a Bill of Rights for temporary workers there. Such a policy needs to be taken nationwide.
Lawrence Mishel, EPI's president, said the increased use of temporary workers marks a "fundamental shift" in the nation's employment structure. "Who's the employer? It makes it hard when you have all these corporate shells," he said. "We have to update our laws to accommodate that."
As the EPI report explains in depth, these are the reasons for the painfully small increases in pay, not technological change or U.S. workers lacking skills. Elected officials need to follow the example of those in the Golden State and create a legal framework that will provide more rights for hard-working Americans.
« Previous
Next »