Uncategorized
Twin City Teamsters Stand Tall for Airport Taxi Drivers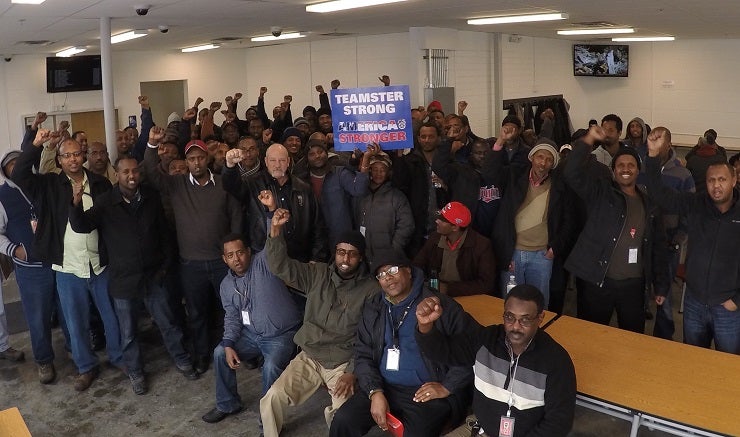 Taxi drivers in Minnesota's Twin Cities had a very difficult 2015. App-based transportation service operators like Uber and Lyft successfully lobbied to undercut their livelihoods by getting elected officials in Minneapolis and St. Paul to approve ordinances that set a lower regulatory bar to entry for their drivers, and were ramping up a similar effort at Minneapolis-St. Paul International Airport.
Uber and Lyft seemed to have the Metropolitan Airport Commission (MAC) on board. But then something happened – more than 400 airport taxi drivers associated with Teamsters Local 792. The union, in turn, demanded action. And Minnesota Gov. Mark Dayton (D) let it be known changing the rules after taxi drivers paid some $3,500 in annual fees to serve the airport was unfair to those workers and any changes should be delayed and apply to all drivers serving the airport.
Now MAC is drafting a report on the proposed changes. But Edward Reynoso, political director at Joint Council 32, said the union expects the commission will listen to Dayton.
"We feel confident that at the end of the day, the commission will take into effect the governor's decision and do what is right for all transportation drivers at the airport," he said.
If airport taxi regulators follow what Dayton wants, the earliest they would institute fee and rule changes is in November. And given the growing chorus against income inequality both in Minnesota and nationwide, there is a good chance any alterations would not create an uneven playing field as initially proposed.
Reynoso said Joint Council President and Local 792 Secretary-Treasurer Lawrence Yoswa is optimistic the members of the MSP Airport Taxi Drivers Association will prevail, and that others in the state will follow suit.
"We hope this serves as the model for Minnesota," he said. "Eventually maybe Minneapolis and St. Paul can form an association."
« Previous
Next »