Uncategorized
W.Va. Governor Takes a Stand Against RTW, Prevailing Wage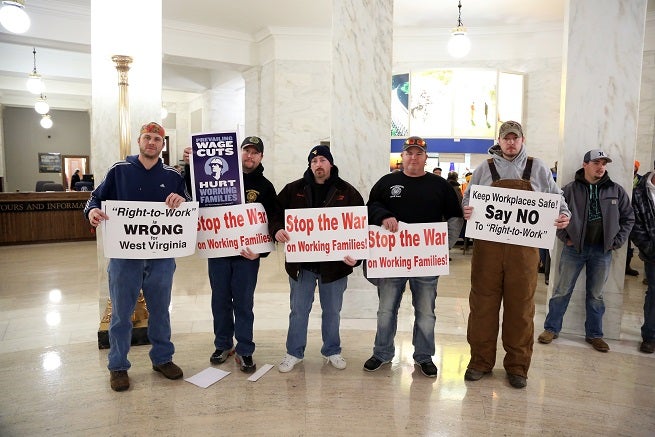 (Paul Nyden, a long-time West Virginia labor reporter, will occasionally be contributing to the Teamster Nation blog about issues before the state's Legislature. His latest report follows.)
CHARLESTON, W.Va. — Late Thursday, West Virginia Gov. Earl Ray Tomblin vetoed two anti-labor bills recently passed by the state Legislature. The bills were the first measures introduced in the both chambers after they convened last month.
The bills will now go back to the Senate and the House of Delegates, with votes possible as early as today. The vetoes can be overturned by simple majority votes in both houses, which both have Republican majorities.
Many people think the only chance of upholding the governor's vetoes would come in the Senate, where each of the two pieces of legislation passed 18 to 16, with votes cast strictly along party lines. Some opponents of the two bills hope they can convince at least one Republican in the Senate to uphold the governor's vetoes. In a 17 to 17 tie vote in the Senate, those vetoes would be sustained.
Commenting on the West Virginia Workplace Freedom Act, the official name of the state's new right-to-work (RTW) legislation, Tomblin said:
"Foremost, I dispute that West Virginia needs a right-to-work law. The issue of right to work has been discussed for a number of years, but I have never had a company cite right to work as a barrier to relocating to West Virginia.
"We do not lack prospects. Our issues are best addressed by improving our workforce and creating new development opportunities.
"Since becoming governor in 2010, West Virginia has welcomed more than $10 billion in new investments and expansion projects. I do not believe West Virginia needs a right-to-work law, a law that would lead to little, if any, economic growth and may lower the wages of West Virginia workers."
Addressing the measure that would undermine prevailing wages for thousands of construction workers, Tomblin said, "Last year, I worked with the Legislature to create a compromise on prevailing wage to help local communities by exempting projects less than $500,000 and to improve our state's prevailing wage calculation.
"These new rates have been in place for less than a year. We need to give this new methodology time to work.
"We don't need to pass bills that lower the wages of West Virginia workers and do little, if anything, to stimulate our economy."
In a letter to House Speaker Tim Armstead (R), Tomblin pointed out, "The Legislature of West Virginia enacted the Wages for Construction of Public Improvements Act in 1935 to ensure that laborers, workers, and mechanics receive fair wages on public improvement contracts."
When Republican leaders in the Legislature tried to repeal the act last year, Tomblin worked out a compromise which he said modernized the act "instead of extinguishing it."
Tomblin wrote that this year's version of the act overturns "our 81-year history of paying laborers, workers and mechanics fairly for constructing public improvements. I favor compromise and fairness over extreme measures."
« Previous
Next »