UPS Airline Mechanics Picket At UPS Customer Locations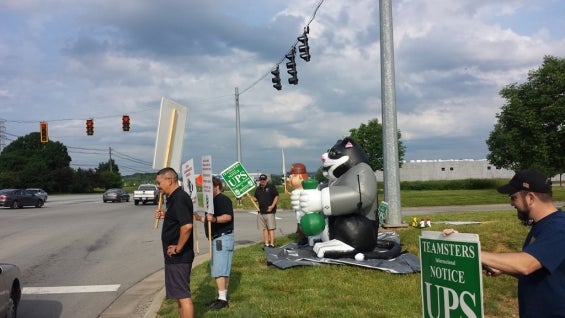 Teamsters Local 2727 technicians and related classifications picketed at customer locations in Kentucky and Indiana today to protest deep concessionary contract proposals that would significantly increase health care costs.
"In 2013 insurance premiums for Teamster members were raised more than 500 percent. Now the company is proposing an additional 430 percent increase in insurance premiums in the first year of a new contract," said Teamsters Local 2727 President Tim Boyle. "While UPS executives are asking our members for concessions, they are giving themselves huge raises and bonuses. We would already have a tentative agreement if it weren't for UPS corporate greed. It's unimaginable why UPS would risk huge labor disputes heading into busy summer and peak holiday seasons."
"As a member, and as a hard working UPS airline mechanic, I am totally outraged," said Ed Gronkiewicz, a 22-year aircraft mechanic at UPS in Rockford, Ill. "Working families are taking a stand against corporate greed. This is just the beginning of our effort to shed light on UPS' unprovoked attack on the employees responsible for safe air travel. The fight brewing at UPS is a showdown between hard working Americans and a powerful corporation that is out to destroy their livelihoods."
The Teamsters are planning more protests and informational pickets at UPS. No dates are scheduled for future bargaining sessions. A conference call is scheduled for June 1, 2016 with Teamsters Local 2727, UPS and the mediator to discuss how the parties will proceed.
Founded in 1903, the International Brotherhood of Teamsters represents 1.4 million hardworking men and women in the United States and Canada. Visit www.teamster.org for more information. Follow us on Twitter @Teamsters and "like" us on Facebook at www.facebook.com/teamsters.
« Previous
Next »