Uncategorized
Teamsters Help Argue Case Against RTW at Netroots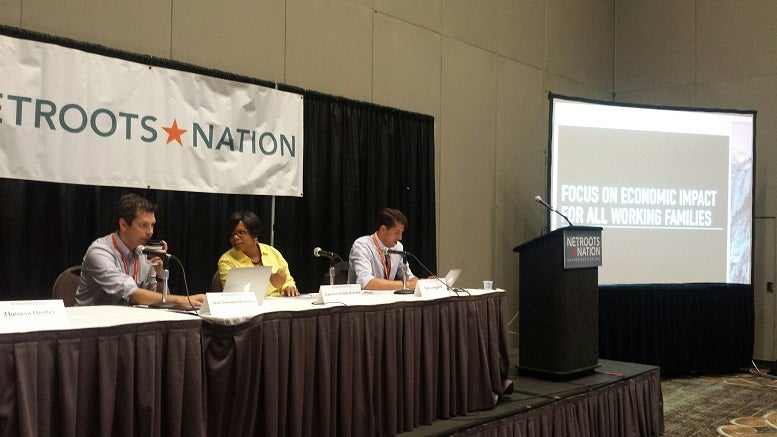 ST. LOUIS – So-called right-to-work (RTW) and other legislation that attempts to curb the power of unions is a threat to all workers, pro-labor allies said today. But there are opportunities to build coalitions with Republican lawmakers to stop their growth nationwide.
Speaking at a Teamster-sponsored panel at the Netroots Nation conference here, union representatives, lawmakers and activists acknowledged they are facing a significant battle in several states. But they painted an optimistic picture about how worker advocates can push back on such efforts to make sure collective bargaining remains and wages and benefits aren't reduced.
In Missouri, for example, unions have enlisted their own members to meet with state lawmakers on both sides of the aisle and stress the importance of rejecting RTW as well as paycheck deception legislation that limits union-related paycheck deductions. And despite strong GOP majorities in both chambers of the Legislature, workers have prevailed thus far.
"Missouri is a state that has supermajority status," said Tyler Longpine, the IBT's State Legislative Director. "But we were able to stop it here because we had a Democratic governor willing to stand up to a bad bill. Missouri really is our success story. This is a state where we swam up stream and won the fight."
Missouri state Sen. Jamilah Nasheed (D-St. Louis) said opponents of RTW in Missouri have been successful in explaining the legislation "is a systematic effort to dismantle the unions." She said big business has been successful elsewhere because "they have to take all of the propaganda and shove it down the throats of those who don't understand it."
Sean Soendker Nicholson, a principal at GPS Impact who has worked on anti-RTW campaigns in the state, said the key in Missouri and elsewhere is finding non-traditional allies with which to partner.
"Our path to victory here in stopping these attacks is in suburban areas with moderate Republicans," he said. "It is incredibly important as you are building coalitions … to explain how [RTW] builds downward pressure on wages."
There is also a need to educate and build unity within the ranks of workers, said Theresa Hester, an organizer with UFCW Local 655. "Let's be honest, having a union job is better than not having a union job," she said.
Longpine warned that workers in Ohio, Washington and Oregon must remain vigilant in the months to come, as ballot measures are set to come before voters in November.
« Previous
Next »