Uncategorized
Low-Wage Workers Bring Own Heat to Fight for $15 Convention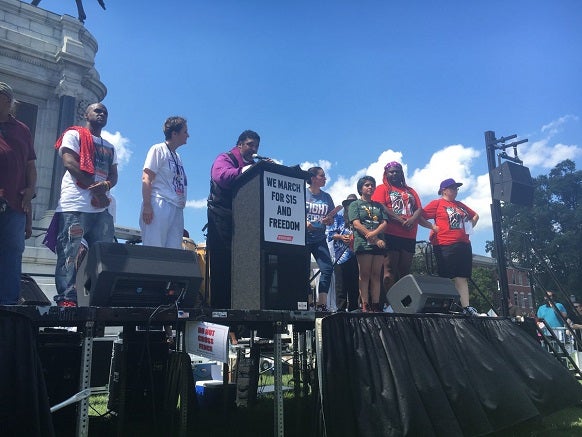 Thousands braved near-record temperatures Saturday in Richmond, Va. to let those in power know that everyday Americans struggling to get by aren't ready to quit their efforts to raise the minimum wage to $15 an hour.
The first Fight for $15 Convention culminated with attendees promising to push further in demanding better wages and union membership. They noted it isn't fair for full-time workers not be able to earn a wage that allows them to provide their families with the basic necessities.
North Carolina NAACP President Rev. William Barber II told participants it's time for this country to have an economy that works for everyone. Hard-working Americans deserve it, he said, but it requires this country's diverse population of people to come together.
"If the racial, social and economic inequalities that plague our nation are all linked, so too are the fights to address them," he said. "The battle for civil rights and the battle for living wages are interconnected. These battles are moral battles."
As part of the proceedings, hundreds of workers went on strike and protested at a McDonald's in Richmond. They said it was time for fast food giants to stop ignoring their workers and instead treat them with dignity and respect. Too many Americans are working themselves ragged and can't guarantee a good meal for their kids after all the bills are paid. About a quarter of the Virginia capital's population lives in poverty, compared to about 15 percent nationwide.
Convention attendees also voted unanimously to push political candidates to commit to raising wages, as well as to hold a national day of action on Sept. 12. They also resolved to demonstrate at all presidential and vice presidential debates in an effort to further raise awareness for the issue.
That's the kind of power workers need to show to make a difference!
« Previous
Next »