LA Port Workers Using New Fair Pay Order in Wage Theft Fight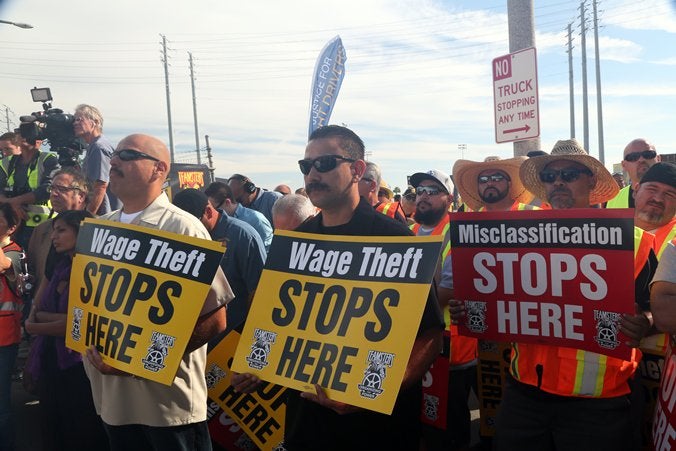 Port truck drivers and warehouse workers at the twin ports of Los Angeles and Long Beach are again standing up to companies who take advantage of them by misclassifying them as independent contractors and engaging in wage theft. But this time they have the support of a new federal measure in their fight for justice.
The 48-hour strike, due to end this afternoon, is the fourteenth such job action in recent years against businesses which refuse to properly classify those that work there as employees. It is aimed at logistics conglomerate California Cartage and Chinese government-owned Intermodal Bridge Transport, which have flouted labor law.
But what makes this effort different is that workers with the two companies can now cite the Fair Pay and Safe Workplaces (FPSW) executive order as yet another reason why these port-related businesses must change their behavior. That's because they are contractors of the U.S. Department of Defense, which means they are covered under the measure.
As Jaime Martinez, a port truck driver with Cal Cartage subsidiary K&R Transportation wrote this week in The Hill newspaper, "The United States military routinely contracts with private trucking and warehouse companies like my employer to move equipment that helps our service men and women defend our country. I am proud that my company helps the military, but my coworkers and I are fed up that our company, and many others like it, have been able to repeatedly violate our rights, especially when it continues to receive taxpayers dollars to move military cargo."
Luckily, there is a way for workers to report those who aren't following FPSW. Good Jobs Nation has established a toll-free number to report them. Call 1-844-PAY-FAIR to report wage theft.
Cal Cartage and Intermodal Bridge Transport are also carrying cargo for such retailers as Michael Kors and Target. Let both retailers know that these two companies are violating their codes of conduct by calling the numbers included in the links.
The Teamsters wholeheartedly support these efforts to treat these drivers and warehouse workers with dignity and fairness. It's time for the law to be enforced!
« Previous
Next »