OATKA Dairy Workers Vote For Higher Wages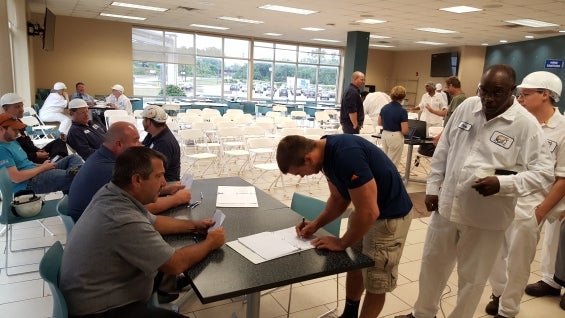 Dairy workers at OATKA in Batavia, N.Y. approved a five-year contract that hikes wages for its Local 118 members as well as locks in health care premiums with the company paying 90 percent. The company also agreed to increase its pension contributions for the 265 workers in the bargaining unit.
Despite difficult issues during negotiations and a rejection of the company's first offer, OATKA workers backed a new deal on Aug. 16 that granted them a ratification bonus. It also addresses pay for new hires and includes a contractual obligation to allow the workers to vote by department on schedule options when the company decides to move to continuous hours of operation.
"While negotiating in an environment of growth and change is never easy, we believe this agreement protects our membership and allows for real growth within a competitive industry," said Paul Markwitz, President of Local 118.
OATKA employee Mike Moore, who served on the negotiation committee, agreed. "Winning real wage growth and securing our medical benefits was a priority," he said. "Having these issues covered in a five-year contract is a huge win for us."
In addition, the agreement guarantees bonus payments and commits to creating at least 100 new full-time jobs at the facility. Local 118 represents some 4,300 members throughout the greater Rochester, N.Y. area.
« Previous
Next »