Uncategorized
N.C. Governor's Defeat is Win for Moral Mondays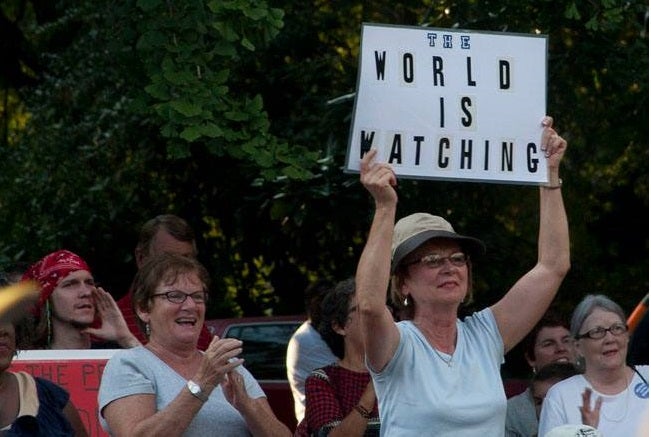 For years, thousands of fair-minded folks from all over North Carolina joined in on the Moral Monday movement to protest state government overreach led by Gov. Pat McCrory. Thousands of demonstrators repeatedly took to the streets to call out efforts to suppress the vote of the poor and minorities, slash taxes for big business and implement an anti-worker agenda.
Yesterday, they were rewarded when Gov. McCrory finally conceded he lost his reelection race last month. While it was voters that supplied the 10,000-vote win for current state Attorney General Roy Cooper, it was the Moral Monday participants who planted the seeds way back in 2013 to stand up to the pro-corporate government platform pushed by GOP backers in North Carolina.
Marches were initially held weekly on the Statehouse grounds, but eventually organizers took the demonstrations across the state to different cities and towns. Hundreds were arrested in the effort to raise attention to McCrory and the Legislature's efforts to raise taxes on the middle and working class, make it harder to vote, hamper health care availability and gut education and the environment.
The effort eventually spread to other mostly Southern states to protest similar agendas there. And just this last September, demonstrators raises concerns about state government in some 30 state capitals.
But in a year where there was little for progressives to celebrate at the ballot box, Cooper's victory over McCrory in North Carolina is a shining beacon for how unions and all people can power a movement for everyday Americans against corporate cronies looking only to fatten the wallets of their benefactors.
Even before this week, there had been victories in the fight against efforts to curtail the vote of the poor, elderly, young and people of color in the state. Organizers sought refuge in the court system when elected officials wouldn't help them.
Now, they'll have another very important supporter in Raleigh.
« Previous
Next »