Teamsters Warn Western Refining Investors, Stakeholders of Possible Strike at Minn. Refinery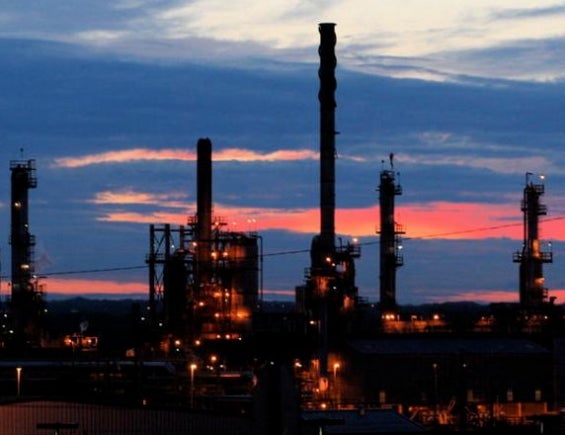 (WASHINGTON) — Today, the Teamsters Union hosted a call for Western Refining [NYSE: WNR] investors and industry analysts discussing the fragile state of contract negotiations between company management and 185 operators and maintenance staff at the company's St. Paul Park, MN refinery represented by Teamsters Local 120. The refinery workers recently voted unanimously 148-0 to strike if a fair agreement cannot be reached at the bargaining table. The current collective bargaining agreement expires midnight on Dec. 31; a work stoppage could commence at that time.
On the call, Chris Riley, Business Agent for Teamsters Local 120 and 17-year St. Paul Park refinery employee, spoke on how the company and the union are still apart on critical issues that affect safety at the refinery, the environment and the local community.
"Experience in this industry is tied directly to safety which is why the Union is opposed to Western's proposed changes which would eliminate job classifications by our most experienced refinery workers" said Riley. "It is a dangerous workplace under the best of conditions. If a strike occurs, the company has not to our knowledge, brought in workers from their other facilities, leaving them no choice but to run the plant with inexperienced office personnel."
The St. Paul Park refinery produces up to 100,000 barrels of crude oil products daily including gasoline and diesel fuel sold by Western's own SuperAmerica gas and convenience store retail chain as competing independent gas retailers in the Upper Great Plains area of the United States. A refinery strike in 2006 led to shortages at the gas stations, particularly at the independent retailers, as previous refinery ownership dedicated the limited available fuel volumes to its affiliated retail outlets.
"We believe a strike is not in the best interests of Western Refining, the shareholders or the customers and are committed to negotiating a fair agreement, but we are prepared to take the actions necessary to protect our Teamster refinery members at St. Paul Park," said Riley.
Founded in 1903, the International Brotherhood of Teamsters represents 1.4 million hardworking men and women throughout the United States, Canada and Puerto Rico. For more information, please visit www.teamster.org.
« Previous
Next »