Roll Back of 'Fair and Safe Workplaces' Will Hurt Workers, Reward Bad Actors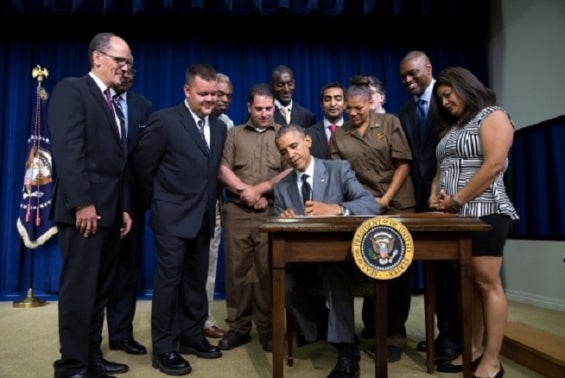 (WASHINGTON) – The following is a statement from Teamsters General President James P. Hoffa on the House of Representative's consideration of legislation later today that would roll back the Fair Pay and Safe Workplaces executive order issued by President Obama in 2014 and instituted last year.
"Federal government contractors receive taxpayer dollars to provide a service or product. And as part of that agreement, they should be expected to follow the law when it comes to the workplace and their employees. When they don't, they hurt working families, they gain unfair advantage over companies that play by the rules, and they should be held accountable for their actions.
"That's what the Fair Pay and Safe Workplaces executive order that took effect last August ensures. There is nothing controversial about it. Lawmakers should want workers to receive the paychecks they earn, be safe on the job and not be discriminated against.
"Taxpayer money should not be handed to companies that blatantly violate labor and workplace laws. If elected representatives are as truly interested in standing up for workers as they claim, they will stop efforts to overturn rules that protect employee pay and ensure workers can provide for their families."
Founded in 1903, the International Brotherhood of Teamsters represents 1.4 million hardworking men and women throughout the United States, Canada and Puerto Rico. Visit www.teamster.org for more information. Follow us on Twitter @Teamsters and "like" us on Facebook at www.facebook.com/teamsters.
« Previous
Next »