Local 107 is on Big Stage for NFL Draft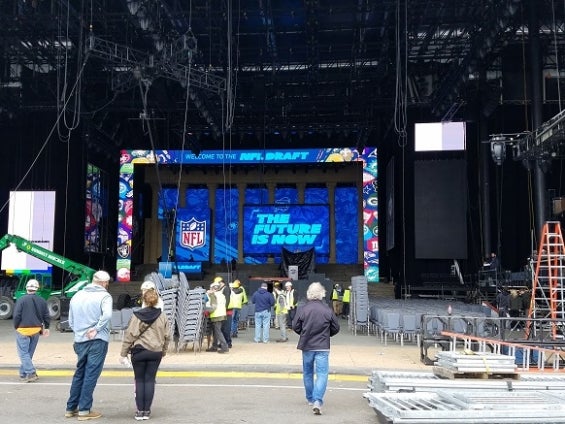 Teamsters Local 107 was among a handful of Philadelphia unions tasked with a sizeable job by the National Football League – to build the largest temporary structure ever in North America to host the NFL draft, which begins tomorrow night. And they have risen to the challenge.
The result is an eight-story, 3,000-seat structure on the steps of the Philadelphia Art Museum that will be front and center while millions view three days of player selections on national television. Shawn Dougherty, Local 107 Secretary-Treasurer and business agent, said dozens of his members have joined with union stage handlers, electricians, carpenters and laborers to build the structure. Work began almost four weeks ago.
"This is probably the most technical stage we have done," he said, noting it goes far beyond what was done for large-scale music acts such as Beyoncé and the Rolling Stones. The work even eclipsed the technical work done for last year's Democratic National Convention as well as the visit of Pope Francis to Philadelphia in 2015.
And the work won't stop when the event ends, Dougherty noted. Sunday, more than 100 Teamsters will be onsite to begin tear down of the structure, and that work could take upwards of two weeks.
« Previous
Next »