Teamsters, Community Supporters Protest Unlawful Firings at XPO Logistics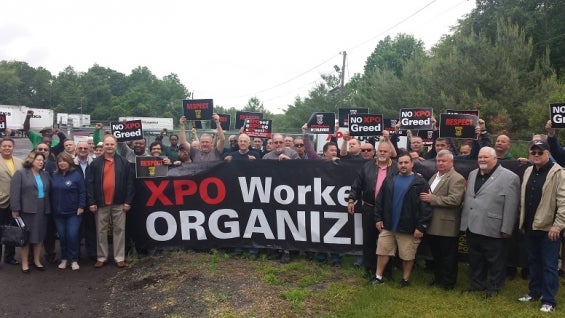 (HAMILTON TOWNSHIP, N.J.) – A group of more than 50 Teamsters and supporters, including state lawmakers and the head of the state AFL-CIO, protested outside the XPO Logistics, Inc. terminal here today and demanded that the company reinstate three fired workers they say were punished for supporting a recent union drive.
"XPO has spent hundreds of thousands of dollars to run vicious anti-worker, anti-union campaigns across the country, but the company has reached new lows by unlawfully firing three workers here in the Trenton area," said Ernie Soehl, Director of the Teamsters National Freight Division. "Our message is clear: we will not tolerate the company firing workers who are exercising their federally protected right to organize."
The group included state Sen. Linda Greenstein (D-Cranbury); state Assemblyman Wayne DeAngelo (D-Hamilton Township); Charlie Wowkanech, President of the New Jersey AFL-CIO; Laurel Brennan, Secretary-Treasurer of the New Jersey AFL-CIO; and Jeff Sagnip, district director for Rep. Chris Smith (R), as well as AFSCME members. They marched on the XPO terminal and presented management with a letter demanding that the company meet to discuss the firings, and to reinstate the three workers. Management refused to meet with the group.
A group of 34 workers at XPO in Hamilton voted to join Teamsters Local 701 in North Brunswick on April 14. The three fired workers, Tom Bower, Ivo Cifelli and Laszlo Rituper, served on the union Organizing Committee.
Cifelli has logged nearly 500,000 accident-free miles and was hired by Con-way in 2010. "It was clear that we were fired for supporting the union," he said. "We need a Teamster contract. Without a Teamster contract, this can happen to anyone."
Founded in 1903, the International Brotherhood of Teamsters represents 1.4 million hardworking men and women throughout the United States, Canada and Puerto Rico. Visit www.teamster.org for more information. For more information about the XPO campaign, visit Facebook: XPO Exposed.
« Previous
Next »