Teamsters Detail Struggles of Port Truck Drivers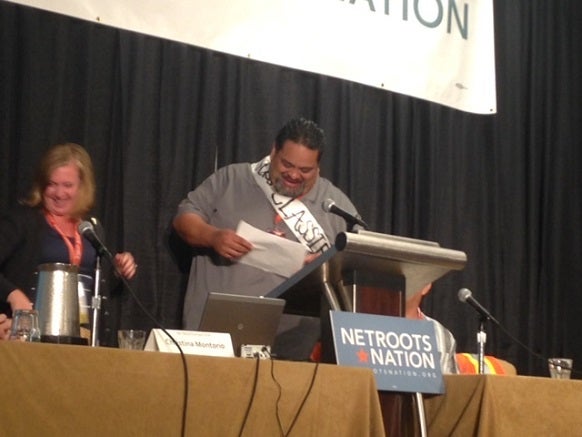 ATLANTA – The Teamsters brought the story of the nation's port truck drivers to the Netroots Nation conference today, explaining how thousands of workers are being exploited by their employers while they toil long hours each day for little to no pay.
Workers and organizers from coast-to-coast told those in attendance and viewing online during the first day of the conference here how numerous companies in California, New Jersey and elsewhere are misclassifying their workers as independent contractors, which denies them workplace protections under the law. These companies also engage in wage theft that leaves many workers will little to show for their daily labor, which can stretch upwards of 20 hours in some instances.
"The drivers are engaged in a two-front battle plan against misclassifying trucking companies – striking and suing," said Christina Montorio, a representative with the Teamsters' Port Division. "Over the last two years drivers in Southern California drivers engaged in an escalating series of 14 work stoppages and more are on the horizon. And port truck drivers are challenging their misclassification status and attempting to recover stolen wages by filing claims with the regulatory agencies to win their right to dignity and justice on the job."
In the U.S., the port trucking industry consists of more than 100,000 short-run truckers who haul containers on and off the nation's ports each day. These containers are filled with all of the items that make modern society function but are no longer produced in this country – clothes, electronics, food, housewares and more. Virtually everything Americans use was brought to this country by ship in a container that wouldn't get in the nation's homes if it wasn't for a port trucker.
For years, the Teamsters have been shining a light on the issue of misclassification for port drivers. And nowhere has that effort been more intensive than at the twin ports of Los Angeles and Long Beach, the main gateway for products made in Asia. While companies and CEOs profit substantially from the sale of those goods, those who help bring them to market are suffering in silence.
Daniel "Seko" Uaina, a driver for Intermodal Bridge Transport, said misclassification is destroying the workforce, especially in the trucking and warehouse industries. He noted that since he leases his truck from his employer, "before I step in it, I already owe them money."
He added, "These companies have been stealing the rights and wages of these workers. I have seen too many port drivers in the last few years lose everything."
Gabriel Procel, a former XPO port truck driver in New Jersey, has endured similar treatment. In fact, XPO fired him for his role in trying to organize his fellow workers and insisting he is a company employee. Just last week, New Jersey's Department of Labor agreed when it granted him nine weeks of unemployment benefits.
"Being in a truck is like being in a cube. You don't see your fellow workers. You are separated," he said. "That's what I see from my side."
The misclassification of these workers stems from the deregulation of the trucking industry in 1980, said Nick Weiner, campaign director for Justice for Port Drivers. And it continues to spread across industries, upending the U.S. economy and creating huge income disparity among workers.
"The destruction of work has happened across the board," he said. "This campaign is one effort that we hope can inspire others to show that it can be done. That's how we win, and hopefully it will inspire our elected officials."
Uaina, the son of a preacher, said it is time for workers to rise up and let companies and lawmakers know they demand to be treated with respect and dignity on the job. "We don't have to be scared," he said.
To help workers and the Teamsters fight for justice, text "port strike" to 97779.
« Previous
Next »