Striking Wash. Hop Workers Travel to NYC to Picket Corporate Headquarters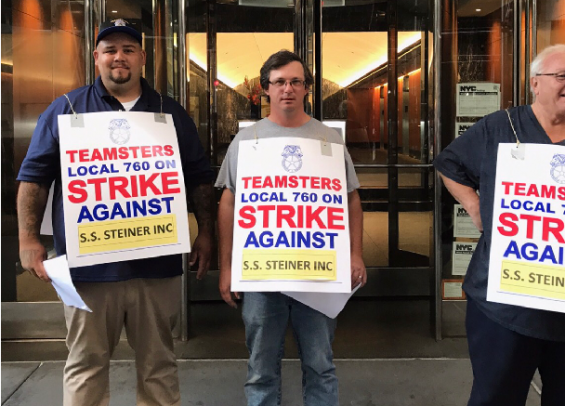 NEW YORK – Striking Teamsters from Yakima, Wash. are picketing on Madison Avenue today against S.S. Steiner, their employer and a major hop producer and distributor. The four workers flew across the country to represent 27 Teamsters who went on strike last week, protesting company demands to weaken protections in their union contract.
"New Yorkers should know who is doing business in their city," said Dennis Anderson, a member of Teamsters Local 760 who has worked at S.S. Steiner for 44 years. "We are going to hold S.S. Steiner accountable for its anti-union actions. Beer wouldn't taste like beer without our hard work and our labor rights should be respected."
The workers produce, warehouse, and ship hops used by breweries around the world. They have been on strike since September 19.
S.S. Steiner has proposed take-aways in contract negotiations, including weakening the workers' grievance and arbitration procedure, undermining their dues payments, and restricting their rights to the Unfair Labor Practice process of the National Labor Relations Board.
"These union rights are the basics of any labor contract," said Leonard Crouch, Secretary-Treasurer of Teamsters Local 760. "If we lose our rights, they can weaken our union, so our wages and benefits will be next. We are going to keep striking until these working families get justice."
Every morning this week, the workers are picketing S.S. Steiner's corporate headquarters at 655 Madison Avenue. They have been joined each day on the picket line by New York Teamsters.
"No New York company would get away with trying to bust a union like this, and we aren't going to stand by while a New York company attacks our union brothers and sisters across the country," said George Miranda, President of Teamsters Joint Council 16, which represents 120,000 workers in downstate New York. "We are giving these Washington Teamsters a New York welcome, and they have our full support."
« Previous
Next »