Uncategorized
Workers Deserve Better Pay, Protections as Part of New NAFTA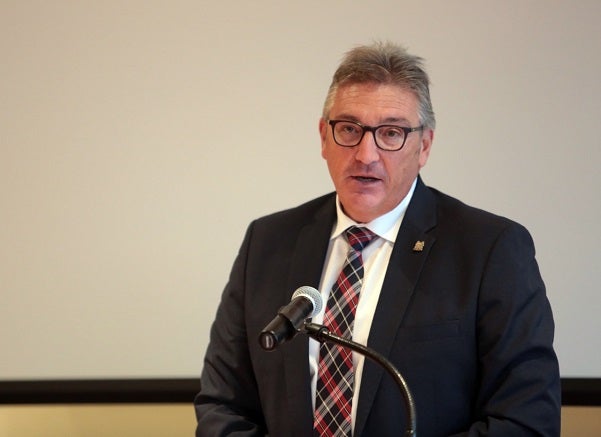 North American workers have borne the brunt of nearly 25 years of bad trade policy under the North American Free Trade Agreement (NAFTA), and the Teamsters, fellow unions and some in Congress are demanding that it stop now.
Speaking during an event today at AFL-CIO headquarters in Washington, Teamsters General President Jim Hoffa, Teamsters Canada President François Laporte and others said there is much at stake for workers across the continent as negotiations continue over crafting NAFTA 2.0. Any revamped agreement, they insist, must include an increase in wages and worker rights if it is going to succeed.
Hoffa said that labor leaders are united "in having a real NAFTA that works, something that has teeth." He noted Mexican wages trail those being paid in China, making it nearly impossible for American and Canadian workers to compete. He said all three nations need to come together to insist on a pay raise for all workers. "We have a rare opportunity," he said. "We are united in this."
After having a trade agreement on the books that has done nothing but fill the pockets of corporations, Laporte said it is time for hardworking North Americans to be recognized and rewarded in a new NAFTA. "Workers in all three countries have a shared interest in being heard in these talks," he said. "It is time to make sure NAFTA works for workers. NAFTA has sent wages on a downward spiral."
Several noted that Canada has set the standard on labor provisions by putting forward language that would bar so-called "right-to-work" laws in the U.S. because they create an economic disadvantage to other countries. Instead of creating jobs in the states where such laws are enacted, they said, all they do is increase corporate greed.
Rep. Bobby Scott of Virginia, the top Democrat on the House Education and the Workforce Committee, said unions need to be empowered, not eviscerated. That begins by giving organized labor the same access to trade deal tribunals as companies receive. It also means crafting strong labor language to be included in NAFTA.
"We must require strong labor practices in the main text of the agreement," he said. "It must be binding and enforceable."
The Teamsters are urging that any new labor rights standards should be grounded in the conventions of the International Labor Organization. In addition, they must protect freedom of association and the rights to organize and bargain collectively. That means ending forced and compulsory labor, abolishing the worst forms of child labor, and eliminating discrimination in employment.
These standards must be enforceable by the same trade sanctions that protect commercial interests. Only a denial of benefits under the agreement for violations of the labor chapter will ensure such protections are enforced.
Workers deserve to share in prosperity and protections under a new NAFTA.
« Previous
Next »