Uncategorized
Hoffa, Teamsters Call for Quick Action on Pension Reform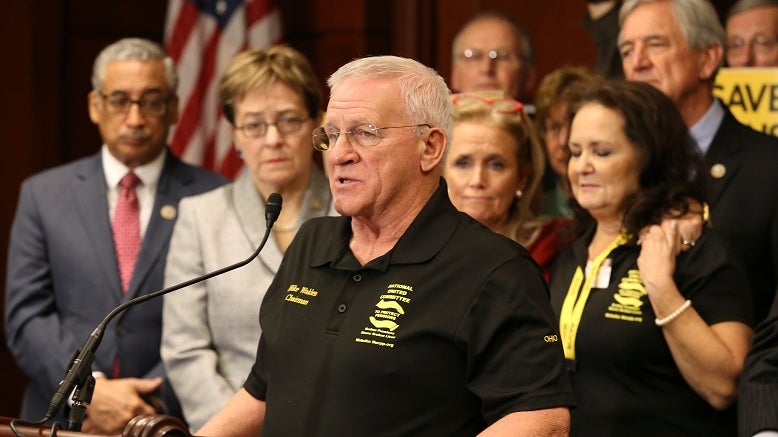 Mike Walden knows what's at stake for Teamster retirees and workers trying to hold onto their hard-earned nest eggs. The former truck driver and Local 24 retiree recognized years ago that pensions like the one he currently receives from the Central States Pension Fund were in dire straits, so he got involved in trying to save them.
He noted many seniors and retirees already face significant challenges trying to make ends meet. Walden, who is President of the National United Committee to Protect Pensions and Chairman of the Northeast Ohio Committee to Protect Pensions, says any cut in pensions would devastate their well-being and force many out of their homes and into a life that at their advanced age they cannot handle.
"Many of us are old, we can't go back to work because we've had joint replacements or some of us have lost our eyesight. We have medications that wouldn't allow us to drive the trucks or work in warehouses like we used to," he said. "Many can't afford their medications if you reduce their pensions. They'll die."
Walden spoke of those challenges during a Capitol Hill press conference Wednesday, where he joined Teamsters General President Jim Hoffa, Senate Democratic Leader Chuck Schumer (D-N.Y.), House Democratic Leader Nancy Pelosi (D-Calif.), bill sponsor Sen. Sherrod Brown (D-Ohio) and others in urging the enactment of a Teamster-backed multi-employer pension reform legislation.
Hoffa said it is essential that the measure be included as part of federal spending bill facing a deadline for passage next week. He argued that Teamster members and other workers deserve quick action that protects their pensions.
"We are in the stretch right here," he said. "We really need to get to work and get out and talk to our congressmen, because they really respond to that. We've got to put the pressure on them. There is no 'no' on this. Whether you are a Democrat, Republican or independent, it shouldn't matter. This is about Americans, about the people who played by the rules and worked hard every day."
The "Butch Lewis Act of 2017," introduced by Brown and Rep. Richard Neal (D-Mass.) last month, would provide a path to fixing the country's growing pension crisis by providing the financial support the plans need to avoid insolvency.
It would create a new agency, the Pension Rehabilitation Administration (PRA), to provide loans to "critical and declining" multi-employer pension funds. The loan terms will require plans to make interest payments for 29 years with final interest and principal repayment due in year 30.
Pelosi said workers deserve a better future, and that comes with a secure retirement this legislation provides. "This is central to America's working families," she said. "You worked for it, you deserved it, you earned it, it's a promise, and it will be kept."
« Previous
Next »