Federal Agency Says Amazon-Whole Foods Supplier Breaks Labor Laws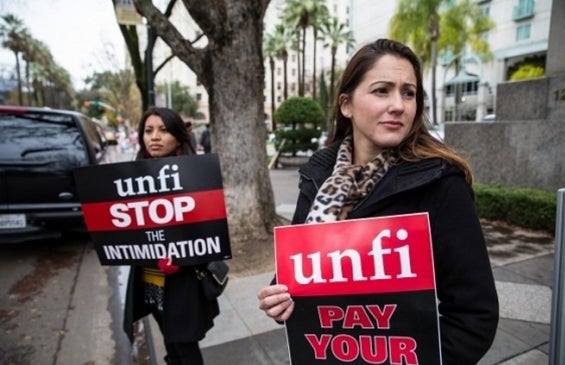 (AURORA, Colo.) – As Amazon considers Denver for its new headquarters, the online behemoth's food distribution network faces legal scrutiny for violations of federal labor law that protect workers' rights.
Region 27 of the National Labor Relations Board (NLRB) issued a complaint last week against UNFI and Albert's Organics – Amazon-Whole Foods' largest supplier nationally – for obstructing workers' rights at its Aurora, Co., facility. The regional office found merit to workers' charges that it had threatened, intimidated and harassed employees management believed to be union supporters. A hearing is set for March 27.
Mike Gibson, a UNFI mechanic, is among about 250 workers seeking Teamsters Local 455 representation at the Aurora site.
"This company is making its own rules and expecting everyone to follow them. It's not right. So, I'm here to stand up for the employees – for workers' rights – and the company doesn't like that," Gibson said. "But I'm within the laws. They're not. And they are doing everything to stop what we're trying to do through fear and intimidation."
UNFI, which employs more than 9,500 full- and part-time workers, has a lengthy history of federal labor law violations. Between 2005 and 2015, the company faced 52 unfair labor practice charges, prompting multiple complaints from the NLRB.
"If Amazon-Whole Foods wants to locate in Denver, it needs to earn the trust and respect of our community. It can start by making sure its suppliers and other business partners follow federal law," said Steve Vairma, Teamster Warehouse Division Director and Secretary-Treasurer of Teamsters Local 455.
Teamsters represent UNFI members in California, Connecticut, Iowa, New Jersey, New York and Washington.
« Previous
Next »