Teamsters Work on Super Bowl Parade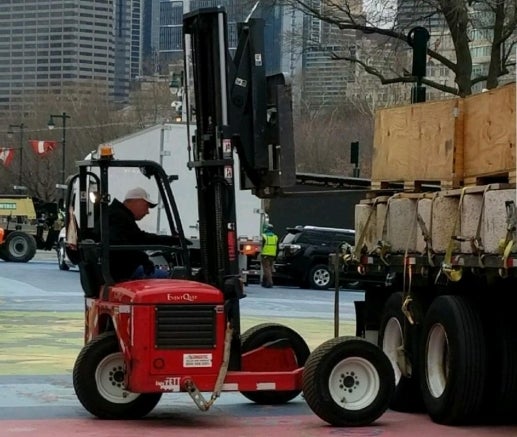 The Philadelphia Eagles soared to an historic victory in Super Bowl LII on Sunday night. On Thursday, Philadelphia will host a massive Super Bowl parade to celebrate the city's first Lombardi trophy, and Teamsters will be there to help make the parade happen.
Teamsters Local 107 members, along with IATSE members in Philadelphia, are working now on the forklifting and staging for the event which is expected to draw in up to three million fans.
The parade will follow a five-mile route through the city. There will be jumbotron screens, sounds systems, an 80 foot by 40 foot stage platform at the Philadelphia Museum of Art, and lots of construction and other materials to safely maneuver.
Teamsters sell and deliver Budweiser beer, and Budweiser has promised parade-goers who are 21+ years of age a free Bud Light. Teamsters Local 830 sales workers and delivery drivers will be working the parade route. The members come out of Penn Beer, a large Budweiser facility in Philadelphia. They will be delivering the beer to bars along the parade route and making sure it's set up for the festivities.
To ensure the smooth flow of fans getting to and from the festivities, Teamsters Local 500 members will be on hand. The members work for SEPTA, the city's public transit system. The Teamsters who work as customer service agents and transit tellers will provide information for transit by bus, subway and regional rail. They are expected to handle 15,000 to 20,000 phone calls the day of the parade, and will also provide information electronically on how to get to locations along the parade route. Customer service staff will be on hand in person throughout the area to answer questions from transit riders.
Even before the Super Bowl kickoff at U.S. Bank Stadium in Minneapolis, Teamsters were working behind the scenes to prepare for the big game between the Philadelphia Eagles and New England Patriots. More than 120 Teamsters worked at the Minneapolis Convention Center, setting up displays and performing janitorial work at the NFL Experience. The University of Minnesota played host to Super Bowl-related events and Teamsters provided the food service, set up for events, and janitorial and parking services. Minnesota Teamsters also delivered beverages to the stadium and nearby hotels, while some Teamsters worked in transportation for the Super Bowl commercial sets. On game day, Teamsters worked inside the arena as ticket takers, stadium attendants and ushers.
Teamsters will no doubt be hard at work on Thursday, as fans travel from far and wide to cheer on the Eagles, who also happen to be union members. The players are members of the National Football League Players Association.
« Previous
Next »