Hoffa: Day Marking Disparity of Pay for Women is Nothing to Celebrate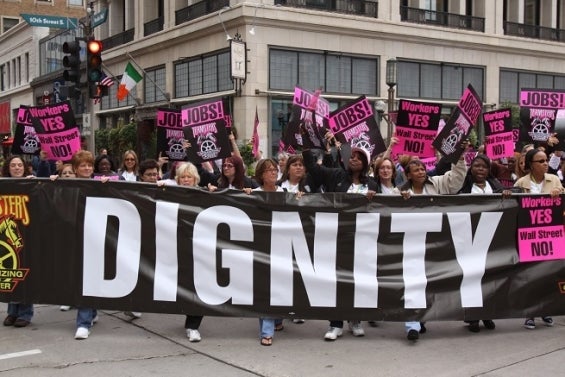 (WASHINGTON) – The following is a statement from Teamsters General President Jim Hoffa about Equal Pay Day, which marks how much longer women must work in order to catch up to what male workers earned in the previous calendar year. Women, on average, earn only 80.5 cents to every dollar earned by men.
"Today is a sad reminder of the pay inequity faced by women in the workplace. Despite the annual effort to pass legislation in Congress that would codify paycheck fairness, there has been no progress. And that inaction will cost women and their families more than $430,000 over the length of their careers.
"Although the overall economy has been improving, the pay gap has barely budged in more than a decade. It hits nearly every occupation and is even worse for women of color. This is not just a low-income problem – it is an every woman problem. But children of the working poor pay the biggest price for this injustice.
"The Teamsters know it doesn't have to be this way. For more than a century, this union has required as part of its contracts that men and women earn the same wage. Unfortunately, not all employers follow the same standard. It may be the 21st century, but for too many women it might as well be the Dark Ages. It is time for all of Congress to stand up for paycheck fairness!"
Founded in 1903, the International Brotherhood of Teamsters represents 1.4 million hardworking men and women throughout the United States, Canada and Puerto Rico. Visit www.teamster.org for more information. Follow us on Twitter @Teamsters and "like" us on Facebook at www.facebook.com/teamsters.
« Previous
Next »